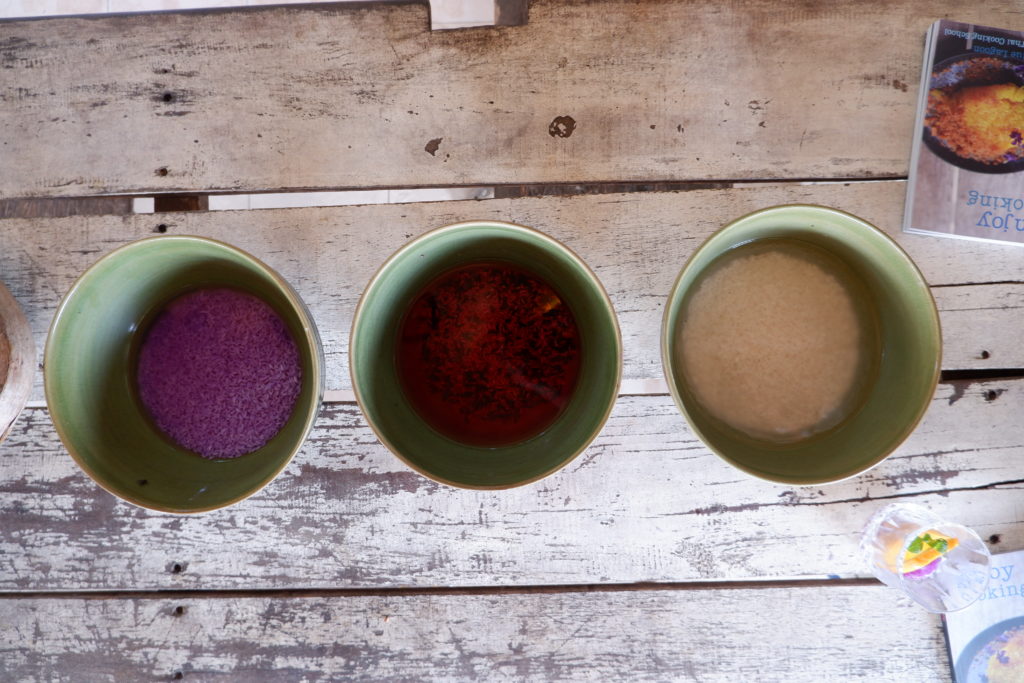 Between street food, dream beaches and elephants.
Wow.. The route was fixed and after a 12-hour flight, a seven-hour bus ride and a short ferry translator, I reached Ko Chang in the evening.
Impressions had to be put in the back anyway, because my well-being was simply too desolate for that. After a quick check-in and a thorough shower, at least my stomach should get a welcome.
Said done, I sat down not far from my hotel in a restaurant and ordered some of the pork neck that an older gentleman, outside, prepared on a charcoal grill. There was also a fresh papaya salad and a chilli peanut sauce.
Fuck.
It was so unbelievably good that my head turned on again. I was back to full life and had to understand what had just happened here. What fireworks for my sensors. I have thanked the old Lord more than once.
Just for info
Ko Chang is the second largest island in Thailand and is located east of the Thai Gulf on the border with Cambodia. Life here takes place mainly in the West. In addition to many small beaches, the main beaches are White Sand Beach, Khlong Phrao Beach and Lonely Beach.
No matter what your budget looks like, there is sea on the beach!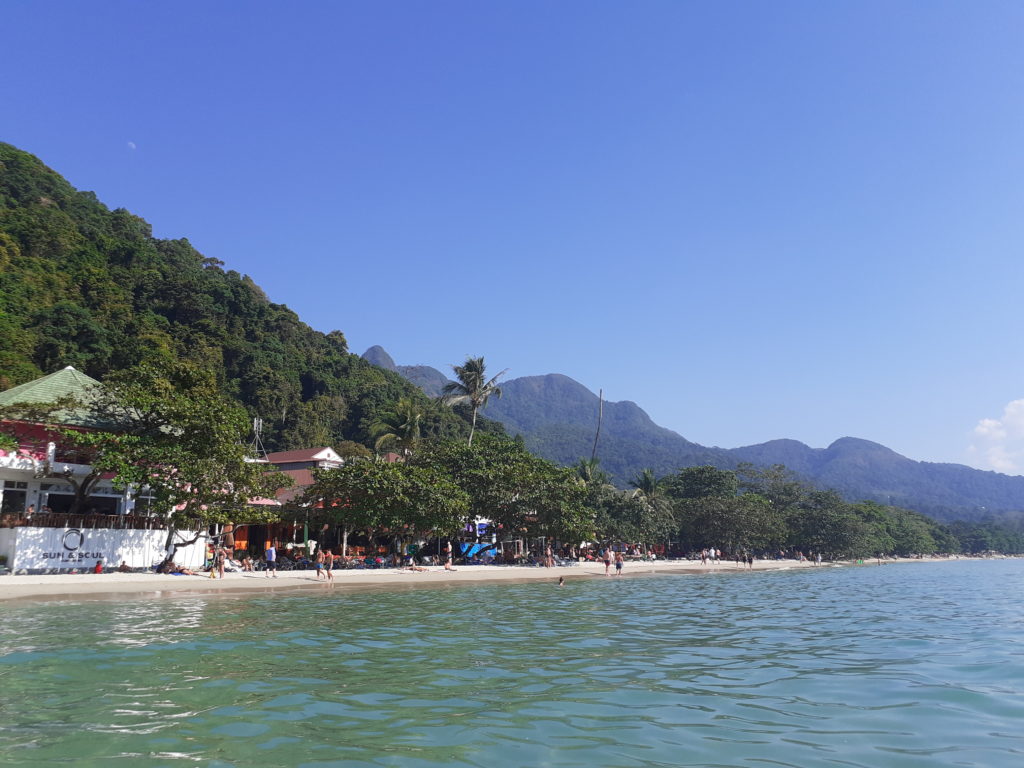 If White Sand Beach is rather touristy and full of small shops and restaurants, it gets more lonely at Klong Prao Beach. The Lonely Beach is also rather quiet, nevertheless the backpacker scene meets here and at the right time of day the party goes off and by that I really mean only here! Each of these beaches has something special, unique and it is definitely worth visiting every beach once.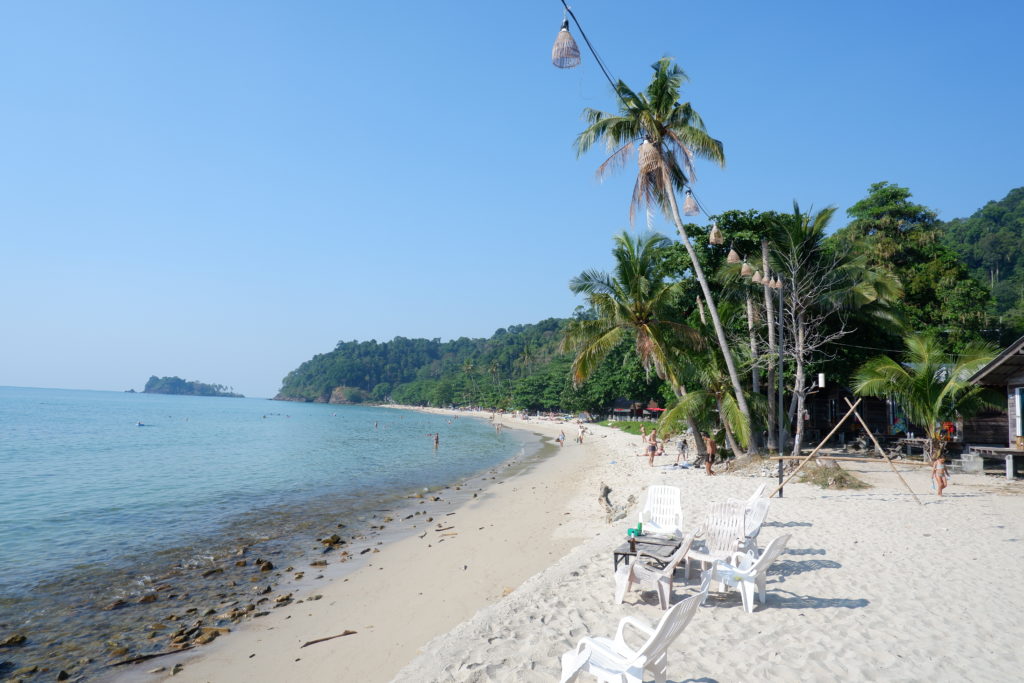 The next day was first relaxed on the beach. I had booked something at White Sand Beach, but would do it differently in hindsight. Here were simply too many families, couples and older lords looking for great love. With a proud chest and a raised shirt, the pale European tries his luck and, with all his non-existent passion, courtesy of the young Thai chick. Not that I have something against it but less is sometimes more. Authenticity.
Nevertheless, for energy-refueling and battery charging, every beach was welcome to me and when I say that this beach is the most touristic in all of Ko Chang, then it is absolutely nothing against the completely crowded beaches in Mallorca or anywhere else. Here you still find yourself alone under palm trees on white sand. The bars and restaurants directly behind you hardly disturb.
Food Paradise
Normally I like to make my own opinion when it comes to good food, but my time was limited and thus googelte and I wondered about the opinions of others.
The name Kati Culinary fell quite often and so the visit to her was set in stone relatively early. By taxi we went down to the beach of Khlong Phrao. In addition to the scooter, the means of transport number one. However, you should negotiate any price in advance, otherwise there may be an expensive surprise.
There on the main road, which once stretches from the north to the south of the island, was the small restaurant Kati Culinary. The restaurants on Ko Chang almost all have an open terrace, which usually eliminates the question of indoors or outdoors.
I ordered lemongrass Chicken Wings and a Minced Chicken Salad. Again, it popped hugely between my cheeks and I quickly realized that Thai cuisine has much more to offer than just coconut milk and curry pastes from the glass. Overwhelmingly diverse with the courage to allow Western influences to be incorporated.
Taste globalization.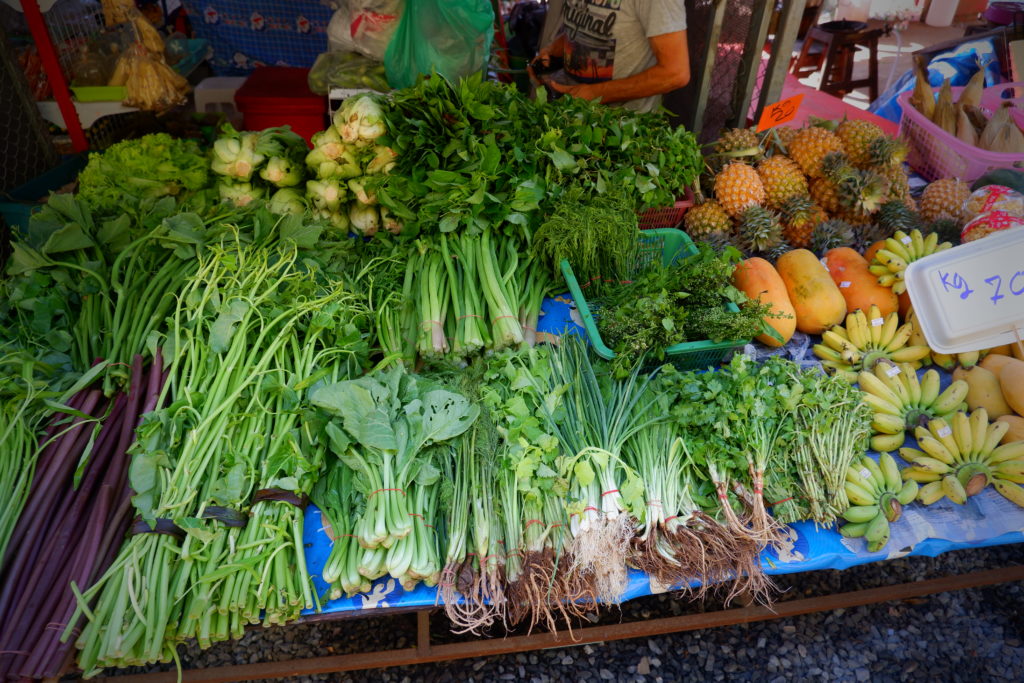 You quickly realize that the local ingredients reflect the real, honest taste 100 percent. If you buy ten mangoes on the German market, reduce the taste to a mango and voilé. This hits the nail on the head. The absolute intensity of your own aroma. I now know how a papaya should really taste and will always honor the noble taste of a rambutan.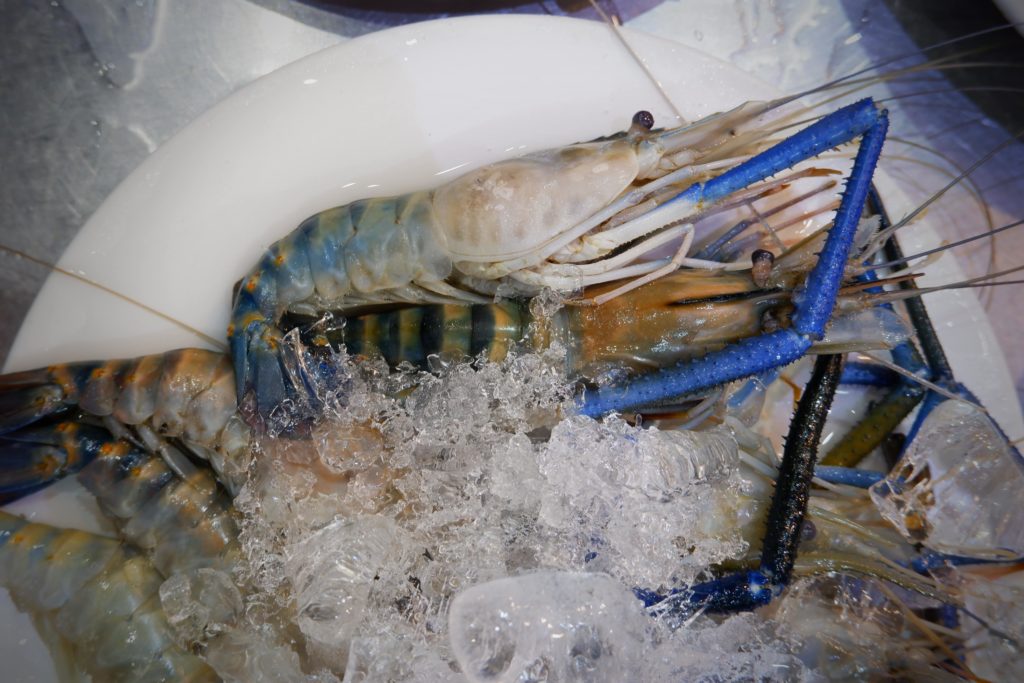 The same applies to fish. Not that we offer poor quality at home, but as long as you have the sea as a direct supplier at your door, it is a great advantage.
I'm generally not afraid of the local street food and have been feeding me from top to bottom. As long as something is cooked through, I think you have to have few concerns. Besides, you pay here to get fed really only a few baht. Unlike in the restaurants, they are then again a little more expensive.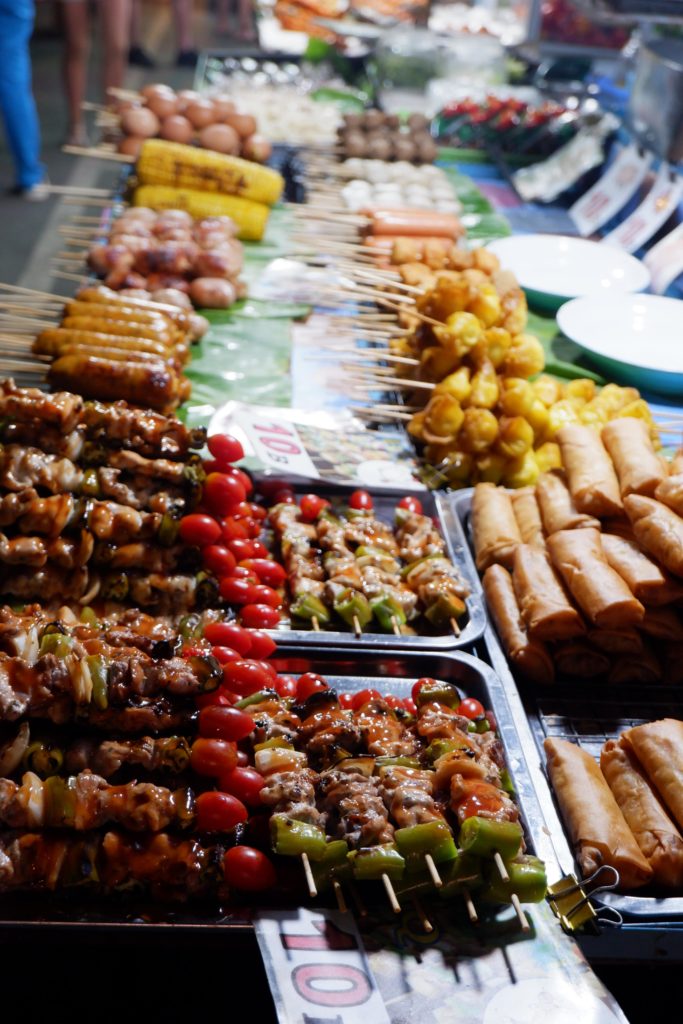 The Night-Market on Ko Chang offers varied street food cuisine and you get a taste of authentic Thai food. The few kebab stalls that have been smuggling in between were skilfully tolerated. Not so, however, the die-hard European sandal tourists, who besieged the small kebab stands in droves. Incomprehensible!
Nevertheless, over baked mussels, blue prawns, Thai BBQ and roti, there is everything your heart desires on the market. And that's really good.
Another restaurant that appealed to me was the Blue Lagoon restaurant in the resort of the same name. As a budding food blogger with a focus on fusion cuisine, you get your money's worth here. So the chef is a Frenchman and on the menu you will find, among others, filet Mignon and Spätzle, interpreted in Thai. Nice. The location is also super exciting. This is how you feed in small bamboo huts set up in the middle of the lagoon. The associated cooking school also appealed to me. Here you will learn dishes that are deeply rooted in Thai cuisine and are beautifully prepared.

In addition, you should also visit one of the many BBQ restaurants. Here you can choose the fish or the seafood beforehand, then get grilled over an open fire and served with light, tasty side dishes.
Despite the huge range of Thai dishes, I couldn't help but try the local Indian. It was recommended to me by a local chef. Chicken tikka masala, onion pakoa and mango mint chutney were just madness and I'm absolutely grateful for this tip.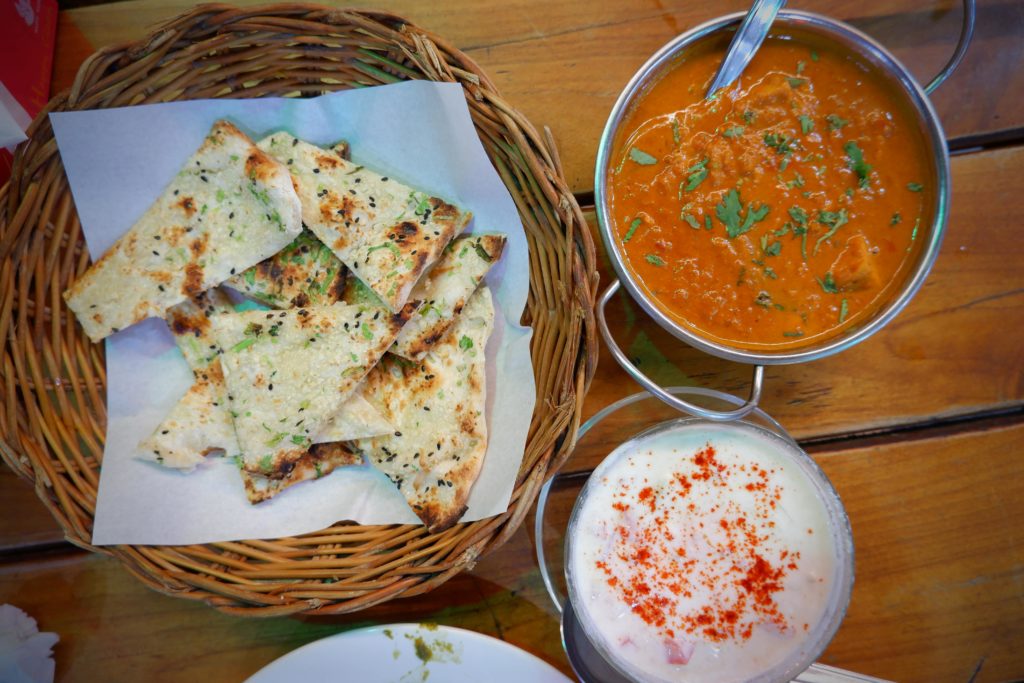 Despite the different living conditions, I have always had the feeling that the native Thai has a very happy and happy mind. Even away from the tourist crowds I was always treated kindly and politely. Whether it's because of the sun or good food, you get the impression that people are doing well. Living and letting live hits it quite well here.
Nevertheless, it should not be forgotten that you are a tourist in a foreign country and that you should also give back the respect that is given to you. Give and take, as a guest in another country should be the agenda. Unfortunately, too often you see people who think that the locals should be more submissive and who are more alien to terms such as respect and morality. I can only advise them. Stay at home and paint your own compatriots or best no one. You have lost nothing here.
"Tomorrow 6 pm at the hotel lobby. You are the only one". It sounded through the listener. I had just booked my first cooking experience and was picked up on time at 6pm in the lobby by a man who later turned out to be Napalais's husband. Unlike ours, most of it happens spontaneously. So she gives a course twice a day, no matter if one or ten people come. In case of need, a family member has to go to the market again quickly and get the missing ingredients.
Arrived at your cooking school I was very warmly received. In fact, I was the only guest and I was honestly quite happy about it. Also in this kitchen you had to take off your shoes. So there is relatively little thought of security measures here, which was a welcome change for me as a chef.
If you're looking for the right kick-barefoot,please don't have to. Even after five bottles of Chang beer. Alcohol, by the way, is just as expensive here as it is in Germany. Napalai's father had invited the neighbors and they sang karaoke and drank whiskey. Everything in all it was damn cool, authentic and the food was the hammer. While the father with his buttery angelic voice Robby Williams croaked into the microphone I learned homemade curry pastes, great rice and pasta dishes. It was more of a "basic" course. But this one was damn good and intense. I won't forget this experience any time soon. Thank you Napalai.
Elephant riding? No thanks..
Ko Chang is also known as the Island of Elephants. So you can book different tours or go swimming with the grey thick-skinned. When I was "offroad" again, I happened to pass such an "elephant camp". Terribly. In front of me was a small elephant with a bell around its neck, which is made docile to take the tourists from A to B.
Violence teaches you early on that pain will bloom when a bell rings. You can't imagine what it's like to have to wear this bell all day around your neck. Disgusting. If these animals are actually sacred here, money is still made with you. Fuck.
I met a few girls who worked in Chang Mai as a volunteer on a farm https://www.elephantnaturepark.org/ for stranded and injured elephants. Here elephants are plucked up and, at best, reintroduced. For many of you, however, it is already too late and it serves more as a hospice, where you are prepared for a last nice time on earth.
Conclusion
Still. All in all, I can only recommend Ko Chang. You can quickly decouple yourself from the big tourist crowds and get to know lonely beaches and great local people. Whether you want to go diving, explore the rainforest or just want to lie on the beach. I was particularly impressed by the cuisine. I am already back and forth from the Thai cuisine, which is highly recommended here. It was a fascinating experience.
This post is also available in: German
You might also like