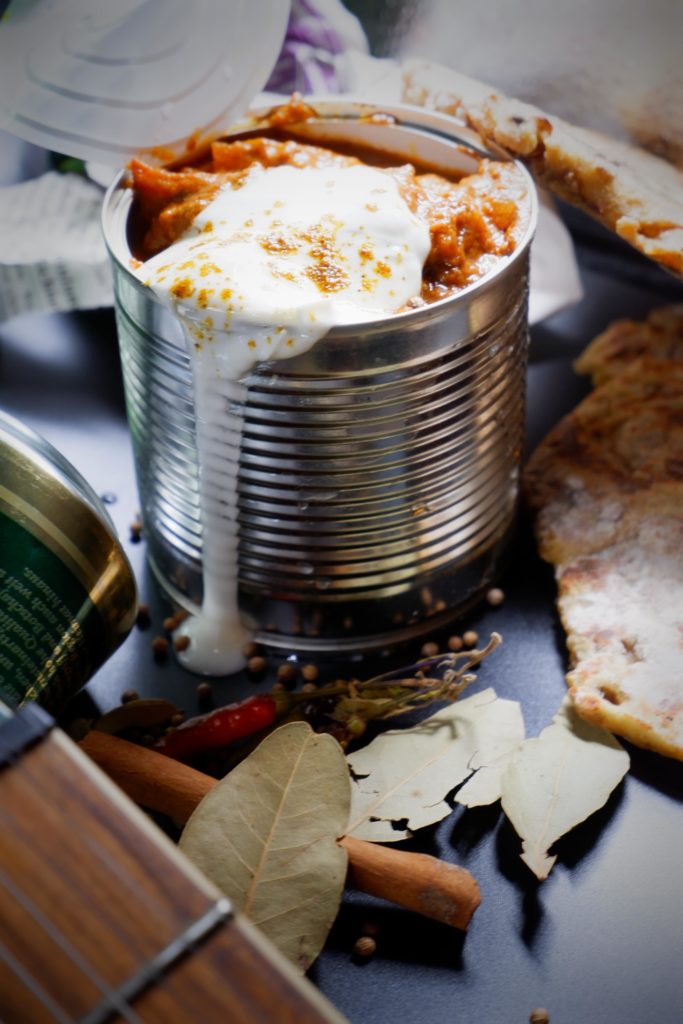 Rogan Josh Beer curry with buttermilk & the best sourdough naan bread in the world

Absurdity can be a strong ally in the kitchen or your greatest enemy. It always depends on the extent to which they can be allowed and to what extent they can be compensated by know-how. If you succeed, real miracles can arise. If you exaggerate it, you only have to go to the ton.
In this case, it came to a nice evening, inspired and swiped after a band rehearsal, that I discovered in the vastness of my refrigerator, cold beer and tender beef shoulder. In fact, this was no coincidence, as I strolled through the weekly market twelve hours earlier and bought all the ingredients for my favorite curry "Rogan Josh". (I replaced the actual lamb with beef. I just wanted to be after that).
I developed my love for this dish after watching Rick Stein's series "Fascination India". Already watching I knew that this dish had to end up under my personal top ten and I hadn't even cooked it before.
Trial makes smart
Long speech short sense. I immediately started preparing my body food. The beer, which was only to accompany the long and gentle cooking process, turned out to be a savior in need, as the spices suddenly began to form too many toasted aromas and I with heroic commitment the half-full bottle of the barley cold bowl over the Spice tipped. I noticed that cinnamon, cardamom and beer actually harmonize quite well, well, at least I imagined that. I added the remaining ingredients and let them simmer gently until it was completed.
It wasn't until the next day that I noticed that this curry even has the potential to storm my top five. With this I had created the absurd, only a little expertise was missing to instill more life in this dish. It needed a partner, an equal companion. It had to be fruity, mild and sweet. Or to put it in the words of a music-enthusiastic, curry- junky – A Bitter Sweet Symphony
Rogan Josh beer curry with buttermilk & the best sourdough naan bread in the world. To the recipe:
| | |
| --- | --- |
| Rogan Josh Curry for 4 persons: | |
| Rogan Josh curry paste: | |
| 1 piece | 1 tsp. Chilli |
| 2 tbsp. | 1 tsp. Coriander seeds |
| 2 tbsp. | 1 tsp. Cumin |
| 1 tsb. | Pepper |
| 2 tbsp. | Paprika spice |
| 1 branch | Thyme |
| 3 tbsp. | 3 tsp. Garam Masala |
| 2 tbsp. | Tomato paste |
| Meat and marinade: | |
| 500 g | Cattle shoulder or club (diced) |
| 3 tbsp. | 1 tsp Cinnamon |
| 3 capsules | Cardamon |
| 3 pieces | Laurel leaves |
| 4 cloves | Garlic |
| 2 tbsp. | Cane sugar |
| 300 ml | Buttermilk |
| For the sauce: | |
| 2 pieces | Paprika (red) |
| 1 piece | 1 Onion |
| 0.3 l | light beer |
| 1 l | Vegetables or beef broth |
| 200 ml | Buttermilk |
| 300 ml | passed tomatoes |
| 2 tbsp. | Cane sugar |
| | Salt |
| Sourdough Naan bread with figs: | |
| 300 g | Wheat flour |
| 1 tsp. | Dry yeast |
| 200 ml yogurt | Yogurt |
| 80 g | dried figs (chopped) |
| 10 g | Vadouvan (French curry mix) |
| 0.5 Tl | baking powder |
| 20 g | Sourdough culture (liquid) |
| 1 tsp. | Sugar |
| 1/2 tsp. Salt | Salt |
| To prepare: | |
| | Yogurt |
| | |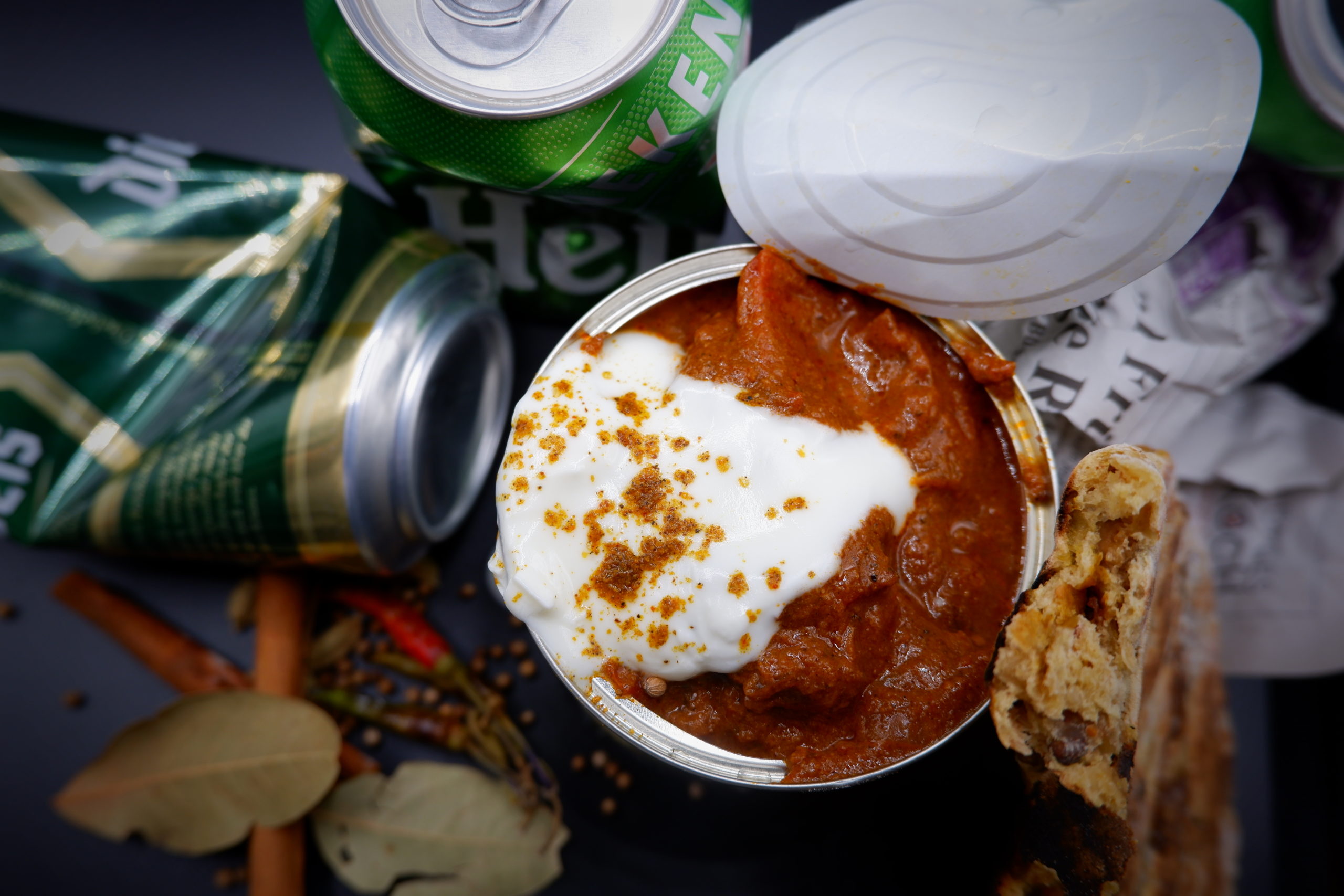 1. For the Roganjosh paste, I put all the ingredients in a mortar and grind them small. You can also take a blender, but it will be less intense.
2. The beef works similarly. Mix all the spices together and fill them with buttermilk. The buttermilk spice mixture must be incorporated deep into the meat. This makes the meat even more grumpy. At best, let the meat rest for at least two hours so that it can connect with the spices
3. Cut a vegetable onion and peppers into fine cubes. Heat a saucepan with a little fat and lightly simmer the onion and peppers. Now add the Rogan Josh spice paste and roast gently over a medium temperature. When the aromas unfold, add the meat and marinade and gently simmer it. When you reach a strong color, you delete everything with beer. Add the tomatoes, buttermilk and brown sugar and fill everything with broth. Now you have to cook everything carefully. This can take almost two to three hours. When the liquid evaporates, just add some water. Important. In the end, the meat must almost disintegrate and the sauce must be creamy and thick.
Sourdough Naanbrot
4. Meanwhile, in a bowl, mix in a bowl: flour, yeast, baking powder, vadouvan, the dried figs (finely chopped), sugar and salt together. Then there is the yogurt and the sourdough cultures. You can now get them in every supermarket. Knead everything into one dough and let it rest in a warm place for at least two hours.
5. Once the curry is creamy and the meat is tender, heat a coated pan and turn thin and hand-width flats out of the dough. Place them in the pan and bake golden brown. Important. Do not use fat, because the dough would then burn. As soon as the flat breads rise and are crispy from the outside, you can take them out and bake the next ones.
6. To make the curry, put the curry in a bowl. For the contrast, you can add some yogurt. That softens everything a little bit. Take a Naan bread and enjoy!
This post is also available in: German
You might also like