Delicious Tom Kha mussels with rice noodles. When you talk about "Tom Kha" in Europe you associate with this name the so well-known and famous "Tom Kha Kai soup", which translates as:" "cooked, gallant, chicken" and not, as so often, confuses "chicken coconut soup".
This refreshing dish, which stands out with lemongrass, lime leaves and galangal, has established itself on many menus of the local gastronomy in recent years, especially during the warm summer days.
Although the use of galgant is rather rarer here and instead is used more on ginger, the concise taste is hardly to be distorted by coconut milk and lime aromas.
It was the second day in Bangkok and I was eager to visit the royal temples in the western part of the city near the Chao Phraya River when suddenly a massive thunderstorm spread over the heads of tourists and street vendors. Wet like a poodle, I fled with other people to a small of the many restaurants that had settled on the main and secondary streets near the Royal Palace. Even though I had breakfast three hours ago, I couldn't really resist the hanger "Best Tom Kha Kai in town".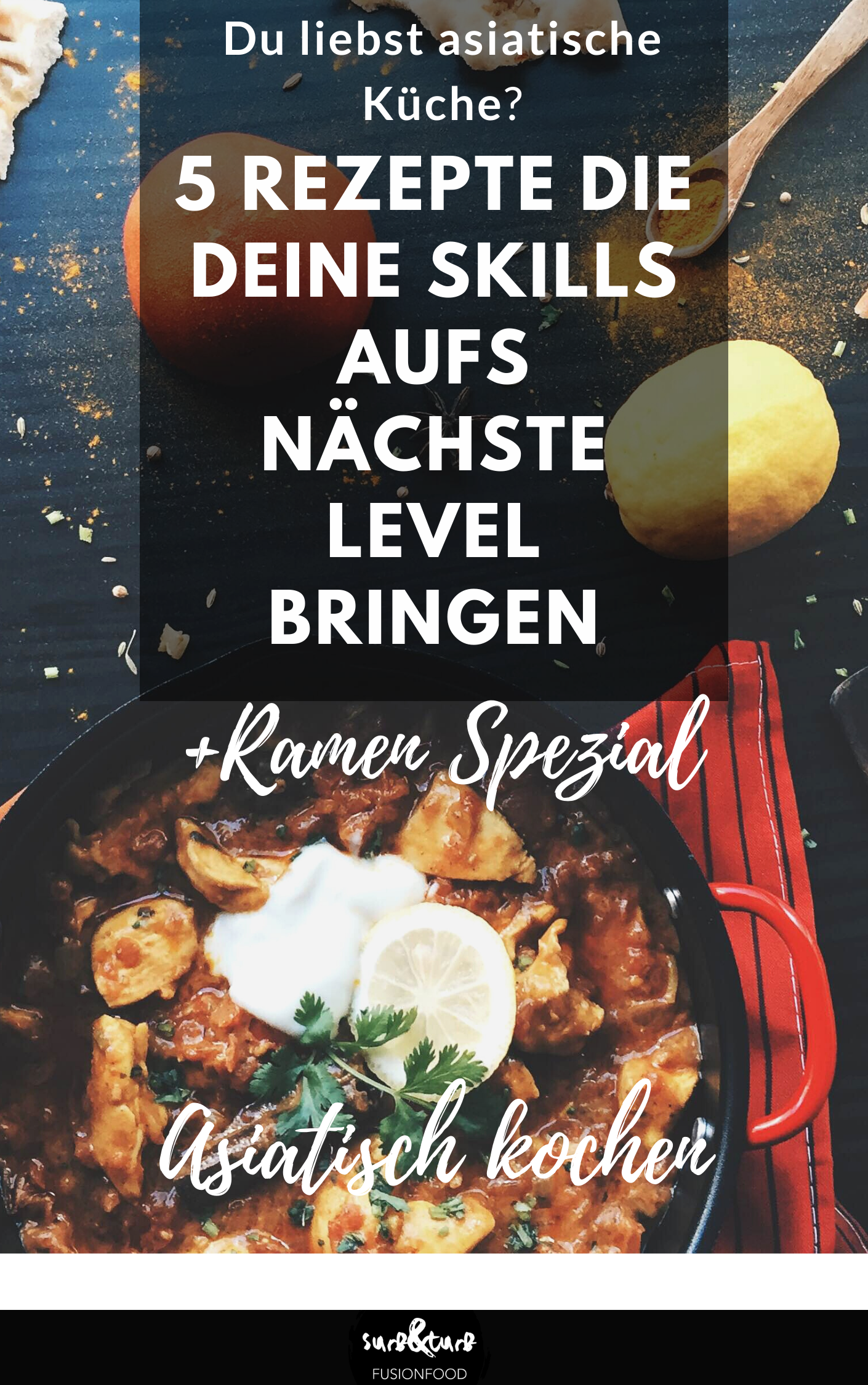 One has to understand that the intake of food in me does not always have to be caused by an empty stomach. On the contrary, it is mostly the pure interest in the new, exciting, unknown that leads me to snort even with a full stomach, the local flavors and dishes, in order to memorize and enjoy the exciting nuances created by herbs, spices and other ingredients, in order to turn them into something new at some point. Always with respect and respect for the traditional, heart-prepared dish.
This dish, which is usually served with rice in Thailand and not as a soup, was really damn good!! What disturbed me a little bit at the time were the huge pieces of galgant and lemongrass, which serve as both an inlay and an aroma supplier. These are the small but subtle differences that help you to understand and identify a dish accurately.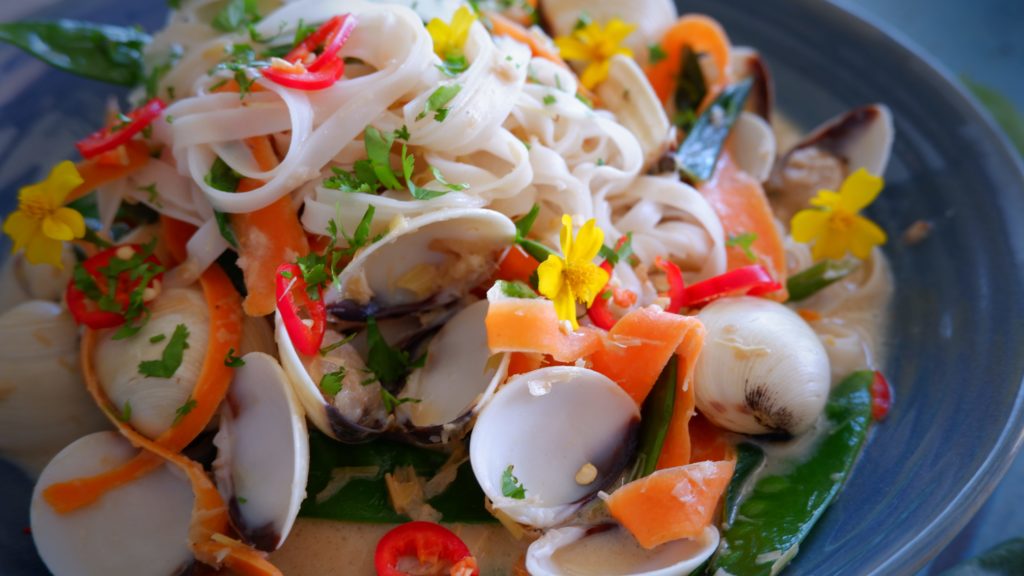 Fresh clams keep this time to make use of the outstanding, tasteful quality of "Tom Kha". A light pasta dish with seafood should be, similar to a "Pasta Vongole", just Thai-inspired.
The slightly wider rice noodles are almost perfect for this dish, as they still have a nice and pleasant bite after very short blanching. Even if Galgant is in the name here, it should be used rather cautiously. It is important that coconut, mussels and lime aromas harmonize with each other and merge into a light but tasteful summer dish.
Ingredients. Delicious Tom Kha mussels with rice noodles:
| | |
| --- | --- |
| Pasta for 2 people | |
| 250 g | Rice noodles |
| 300 g | Clams |
| 6 shares | small sidelings or mushrooms |
| 200 ml | Coconut cream |
| 1 1/2 tsp | chopped galangal* |
| 6 shares | Lime leaves* (fresh or TK) |
| 1 rod | Lemongrass |
| 2 tbsp | Fish sauce |
| 2 cloves | Garlic |
| 2 tbsp | Tamarind juice* |
| 1 tsp. | Palm sugar |
| 1 clove | Spring onion |
| Juice of half a | Lime |
| 1 piece | Carrot |
| 1 hand | pea sprouds |
| 5 branches | Coriander |
| 1 | red chilli |
| 1/2 tsp. | Salt |
| Some | Oil |
That's how it's done. Delicious Tom Kha mussels with rice noodles:
1. Crush the galangal, lemongrass and garlic and place in a mortar. Add the fish sauce, tamarind juice, palm sugar and salt and crush to a fine paste with a pestle.
2. Peel the carrot and then peel down long, thin strips with a peeler. Cut the leek onion and chilli into fine rings. Chop the coriander. Halve or quarter the mushrooms. Wash off the mussels under cold water. Cut the limonene leaves into fine strips.
3. Blanch the rice noodles in hot saltwater and quench in the ice water. You should still have bite. Make sure the rice noodles take only 1-2 minutes. In addition, the noodles in the coconut milk later follow.
4. Heat a pan or wok to medium temperature. Add a little oil and fry the mushrooms colorless. Then add the spice paste and fry without color. Then add the mussels. Swivel through the pan and wipe off with the coconut milk.
5. Now add the chilli, sugar pods, lime leaves, carrot strips and leek onion. and bring to the boil briefly. The mussels should open now. The mussels that do not open later sort out.
6. Finally, season with the juice of half a lime. Add some salt or sugar. Add the noodles to the mussels, mix vigorously and heat. Arrange on a plate and garnish with coriander.
The marked with asterisks (*) are so-called provision links. If you click on such a link and purchase via this link, I get a commission from your purchase. For you, the price doesn't change.
This post is also available in: German
You might also like