Riens ne va plus (nothing works anymore)

I'm bad. My head roars from the deafening noise. Colorful illuminated advertisements flash everywhere. The dense smog and the constant temperature change between air conditioners, where you want a down jacket and outside temperatures where you long for the Icebucket Challenge, are hard to do. Finally a piece of meadow, a park. Shoes off, T-shirt off. No matter.
Eight hours earlier… Full of energy to explore the city and snort the local street food, I leave my hotel in the direction of City Center (Siam Station). You quickly realize that everything here is bigger and fuller. The huge malls line up side by side like pyramids and are all connected. Here you get everything, really everything to buy.
The food courts big as football fields, offer a complete culinary world tour. But rather bad than right. If spaghetti cabonara is indeed a huge hit among the locals, this dish tastes more like pasta with mayo and ham substitutes. So is the supermarket. There is really everything your heart desires here, even a rice affineur and an insect counter. Unfortunately, everything, really everything, is wrapped in plastic here. I quickly realize that I have to leave here and I take the BTS train to Chinatown, two kilometres away.
Here everything is not so massive and overwhelming, but the colorful fairy lights and the many crowds are reduced to narrow streets and narrow paths. This is where the shopping experience really starts. Live chickens and fish, masses of street food, quantities of household goods, clothing and electrical stuff.
Hunger sets in and I dare to experience my first food experience in Bangkok Chinatown. Noodle soup, from pork. "All in?" a young girl asks me, who seems to be the daughter of the owner and cook. "Of course," I reply, with the ulterior motive of getting a kind of chashu (roast pork) and vegetables. Anyway… One of the most delicious pork broths with an over-the-top egg and pork belly and lungs and heart and spleen and paw and much more that I could no longer identify, rounded off with a lot of pepper and anise gave this bowl a warm, deep and strong Taste. 35 degrees back and forth. This dish gets an entry in my sensory memoir!
But it shouldn't have been. Other things I ate here: duck soup, a kind of pancake filled with palm sugar. Chinese fried delicious something (Art Churros) with even better sauce. Absolute madness.
I left Chinatown and didn't end up in the Old Town. This is actually only on the agenda for the next day. but I really can't anymore and after countless changeovers and dozens of tuk tuk rides later I finally end up here in the park. Exhausted, sweaty. This city is not for me. Away here. I am no longer surprised about the backpackers who advised me to stay only 2 days, otherwise you will lose your head. Should they be right?
From hated to beloved. How to learn to understand a city …
I arrived at the hotel and thought. Better prepare. You are here 12 days now. If you carry on like this, you will not survive 3 days. I googled off, put my note and pen ready and wrote on:
Locomotion:
BTS: For the equivalent of 30 cents, you can get from A to B very quickly by train. The network stretches all over Bangkok and is relatively easy to understand. Trains arrive every 3 minutes!
Grab What is UBER with us is in Bangkok grave. The app offers much more than just ride-sharing. Delivery service and ambulance trips are also included. I never had to wait more than 8 min for a car. The drivers have always been friendly and you get great advice for the city. A Grab taxi costs about 6 euros per 10 km. It's very worthwhile. That is enough.
Tuk tuks and taxis without a taximeter just want to pull you over the table. Always ask Thai for the price. (Rkh'ph ng kh'h'n) or something like that.
The rider still realizes that you are a Touri, but also knows that you can't be left so easily.
Behave like a local…
If you get on the train, you will always see the same picture. Everyone has a mobile phone in their hand and gambles or does something else. The American lovingly says Mindfuck, the European Cerebrare Onanie (satisfaction by mobile phone), but in reality only standby mode is activated here to save energy. Distract yourself. Listen to music or audiobook. Watch any videos or just surf around. Come down. Don't stay in public places or malls for too long. Sure, sit in a cafe or a bar but stay in motion or rather let yourself move. The above means of transport will help you with this. I have used them countless times every day.
Get a Sim card
Yes, you have Free Wifi almost everywhere, however, only if you log in in exchange with your email address. This is lead generation. You're being trashed with advertisements. Mobile shops are available on every corner and I have paid no more than 10 euros for a telephone internet flat rate for two weeks. Google you to your destination. As long as we are still in the information age, you should do so. Enter: Best street food within 200 m and Zack, you come to the best places. It's worth it.
Live a little outside
Yes, there is still a lot going on, but here everything gets a little clearer and you adapt much better to your surroundings. Small beer gardens with street food and live music, many small individual parks, the density of skyscrapers disappears. You quickly get to know the local street vendors and greet each other. My hostel was located between Phra Khanong and On Nut Station. If I wanted, I was in the city in ten minutes. Having a BTS station nearby is worth gold. The throng of tourists disappear and you start to feel comfortable. I mostly stayed in 2-3 star hotels. They are almost as expensive in the suburbs as the hostels in the city. Good to come down. Class service and nice rooms.
Set your stages
Especially as a tourist it is better to choose two or three sights the night before and plan your journey. Thus, the visit to the temple complexes with a small detour into the old town was a self-running, because both are quite close together.
With much better preparation and clearly defined goals, everything is suddenly much easier. It's just different than on one of the nearby islands. These are discovered. The city must be read. I've seen really cool things and from day to day I've been more and more heartbroken about Bangkok.
Here's what you should have seen:
Chinatown: Absolutely crazy and chaotic but definitely worth a visit.
The Old Town: Apart from the Kaosan Road actually a very nice place. Here are the temples and palaces. You will also find here, with the best national restaurants. (E.g. Jay Fai)
Siam Station: Yes, even if it's very hectic there, you get everything your heart desires in the local malls. For hardcore shoppers and for browsing pretty cool.
Train Market Ratchada: The most famous street food and shopping market in Bangkok. Apart from really good food, there are other funny things here. You need a boat license, a doctorate or a new identity? No problem. For only 1000 Bath you should drive any X any motorboat where you want tomorrow.
To go out:
Kaosan Road: When I say that it is the Reeperbahn of Bangkok, almost everything is said. There are a lot of backpackers, tourists and party-goers on the way.
Skybars: A must and there are quite a few of them. Being above the rooftops of Bangkok is a mad feeling. But beware! Pay attention to the dress code.
Sukhumvit Road: Since everything revolves around this street, because it is the main street of Bangkok and also the longest street there, it is obvious that you can go out really well here. International clubs on Sukhumvit 11 and trendy hipster bars in the Nana or Asok district leave no question.
Food…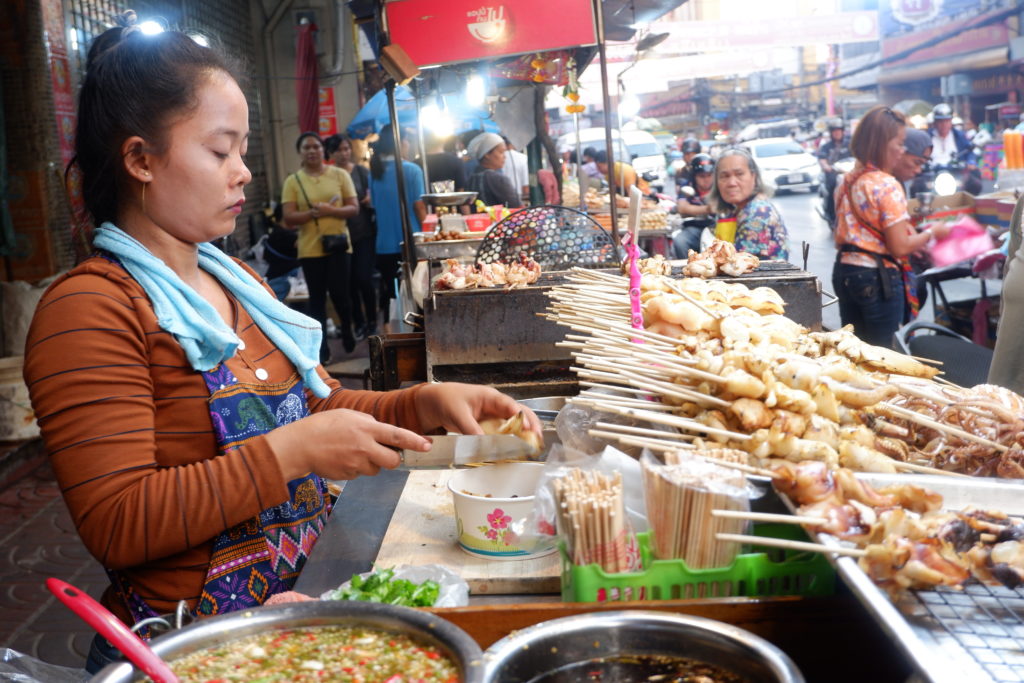 And Bangkok has a damn lot to offer of that.
China Town Streetfood: People, people, people… Yes, it's like in all TV reports, YouTube videos, etc. Here you can eat all that has arisen from the womb of Mother Nature. I, too, definitely have my limits when it comes to culinary delights, but when you see people here cooking the same dish for tens of years to feed their family, the quality standard grows exponentially and you taste it almost everywhere. Dense grapes to people vying for the best places stand in front of rickety metal carriages and roar their order out. The mostly older lords, who hide behind their wagons, cook with so much serenity, calm and care that one quickly realizes: here culinary wonders are created!! Get into it. It's unique.
Chinatown RedRos's: Michelin-starred restaurant. The dinner menu costs just 1000 Bath. (approx. 30 euros). A mix of traditional and modern cooking style. It was pretty good.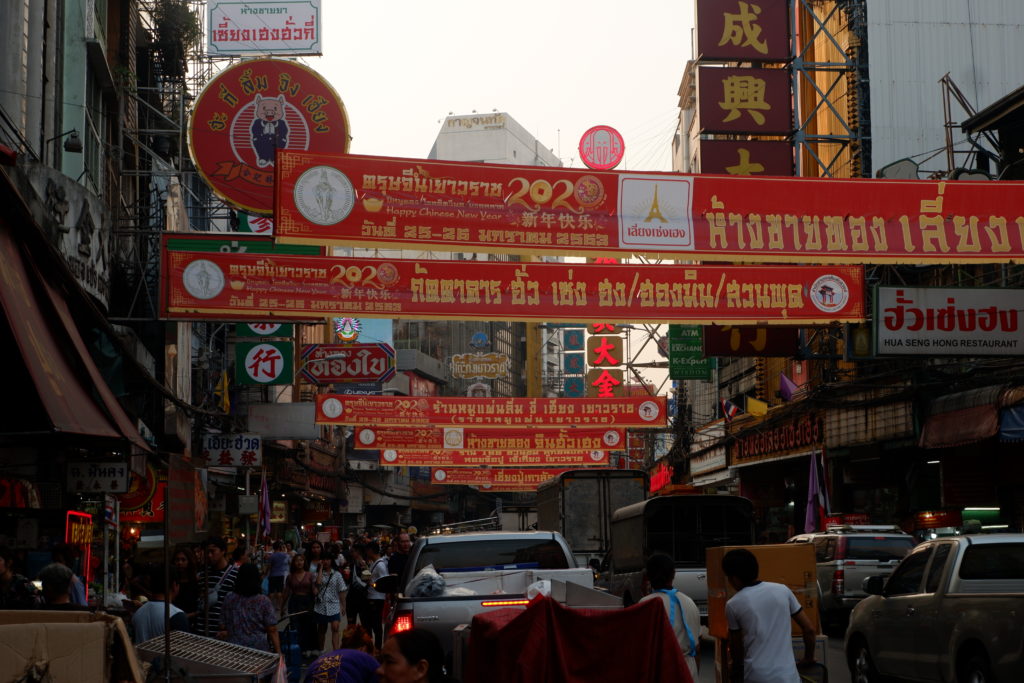 Jay Fai: Personally, I didn't make it there because she's fully booked for the next three months. Nevertheless, it is recommended by every local. However, their famous crab omlet costs 1000 Bath. Quite happig. Even for street food with a Michelin star. But she also uses Kingkrab-meat.. Also recommended are their "dried"Tom Yum noodles.
Jeh O Chula: Also highly traded by the Michelin. And I tell you one thing: Wow. Wow. Wow. Really delicious Thai street food. I was advised to arrive half an hour before normal opening hours. Said, done, get space! Lucky, because half an hour later the shop was bursting full and a long queue formed in front of the shop. I had by far the tastiest and crispiest pork belly of my life. Shrimps that couldn't call themselves shrimps. Rather a "supershrimp" and a Thai sweet sausage served with a mushroom sauce. Galactic. Who comes to BKK- a must.
Ratchada Trainmarket: I have already described this market above. Here are a few dishes I was allowed to eat there. Also a must: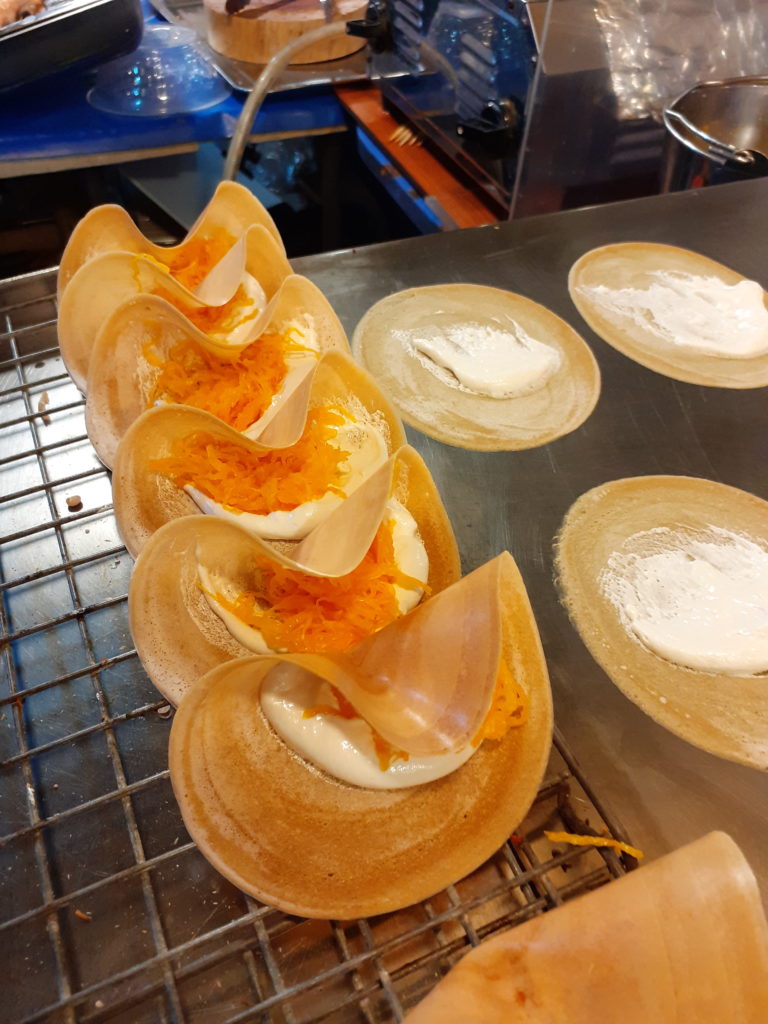 Souffle and me:Highly European-inspired cuisine. The cook herself is said to be the former winner of Topchef Thailand. But what this is really about is obvious. Clear. Souffles. And they are incredibly good. Whether salty with truffle or sweet with lemongrass. Their souffles are a force. Many European restaurants can cut off a slice. You should make a reservation as it is difficult to get a table here.
Beer garden Streetfood: Around Bangkok and also occasionally in the city you will find small, nice beer gardens. There is a drinks stand and many small food stalls around it. For a late snack definitely the right thing to do. The prices are very affordable and often there is also live music or another live program. Good food, nice people, cold beer, what more could you want.
Oh yes, I could certainly fill the list with more pages. But experience it for yourself. Even the most famous restaurant and food critics in Bangkok say they haven't seen everything yet.
Conclusion:
I love Bangkok. It took me some time, but then I understood the city. Apart from the fact that a great deal can be done here, I could even imagine living here for a certain period of time. In my cooking class, I have met people who have lived in BKK for 3 years and claim to know less than half of them. Here you will never get bored and if the bonus for the die-hard culinary enthusiast comes along, people, then you can imagine that for me it is paradise on earth. If you are looking for the ultimate taste, you will come across an unforgettable adventure, exciting experiences and irresistible surprises.
Have you ever been to Bangkok? How did you like it? Would you like to live in such a metropolis? I am looking forward to your answers.
This post is also available in: German
You might also like