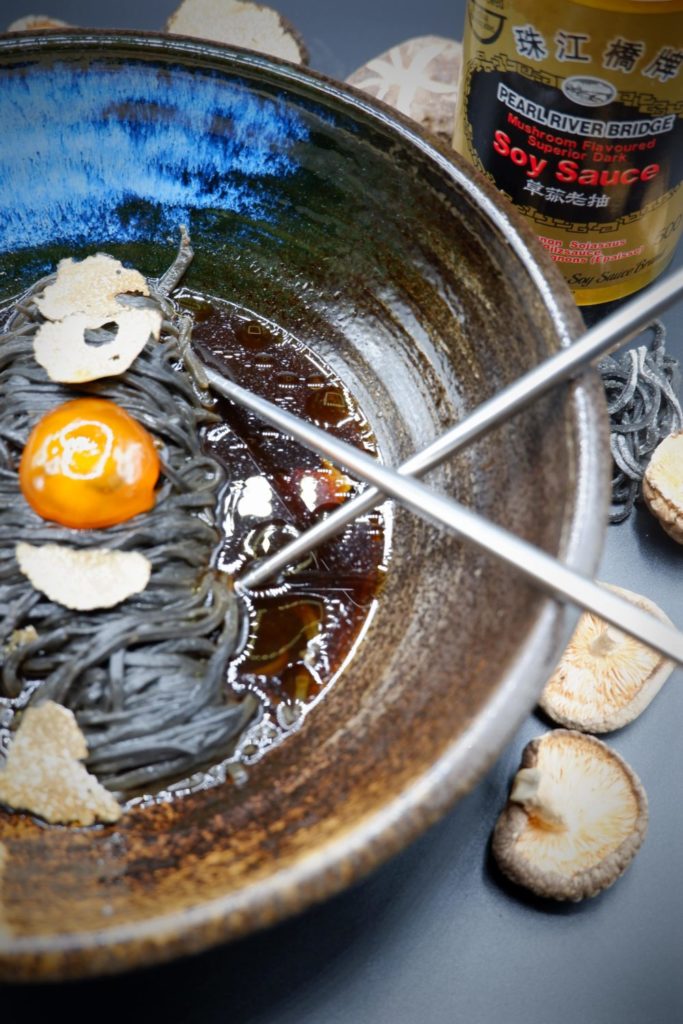 Amazing truffle ramen with miso..

Awesome. Completely flashed by today's chef's point (cooking fair) and completely confused by the streams of impressions, information and people, I once again noticed how small you actually are and how beautiful it can be to create a piece of the puzzle from this huge, culinary canvas. Ben Shewry, from (Attica Melbourne), Daniel Humm, from (Eleven Madison New York) and many others proved once again that we all speak the same language. But it's not always easy to understand them. Totally euphoric and with all the new energy in the back, now is the right time for a mammoth project.
The rain is just buzzing with thunderbolts against the window and I look at my recipe notes with awe and respect. For me, ramen is one of the best examples of this when it comes to the perfect combination of depth, strength and honesty.
Almost ten years ago I first came into contact with this beauty and since then this dish has become an integral part of my life. It was one of those moments that you remember, why you do what you do. To create new things, to build on dishes, to incorporate his inspiration.
After countless attempts to cook a sly broth (6 are documented) and other attempts to make the right ramen noodle, I would like to try a completely different version today.
I like truffles
The small tuber-like aroma bomb has the potential to play well in Japanese cuisine due to its own strong and earthy taste. I already know with which partners the Tuber- aestivum has its big appearance and send besides dried shiitake mushrooms also Hatcho-Miso into the race.
A very long mature miso, which can hardly be surpassed in full-bodied and warm aromas. Now the noodle question has to be clarified. Finally, we want to make an alkaline pasta, as it is even more intense from its own taste. I use Kansui water for this.
Alternatively, long-heated soda would also work. Due to its high content of potassium carbonate and sodium carbonate as well as traces of phosphoric acid, it gives the noodles their special yellowish color and their specific taste. Sometimes eggs are used instead of kansui, but there are also noodles without kansui and eggs.
But I am counting on both. Besides, I will dye the pasta black. I want it to also visually join the dark play of colors. In contrast to the classic truffle paste, which comes along very modestly with its own inlay, the classic ramen is full of vegetables and co. I opt for the first variant and only rely on a stained egg yolk, which is supposed to conjure up a velvety texture on the tongue due to its creaminess.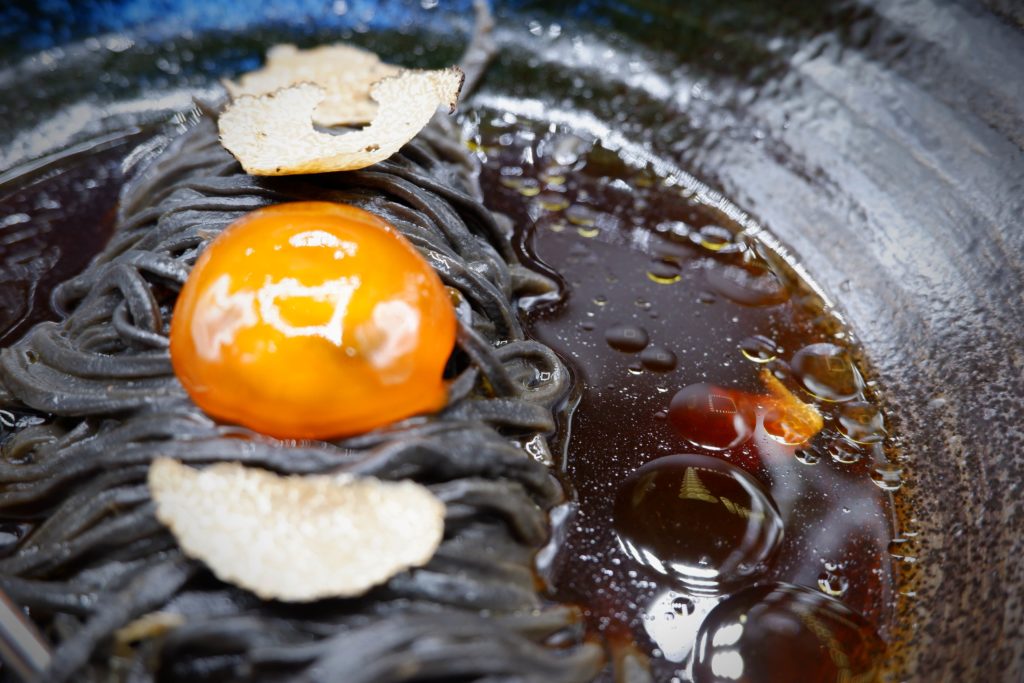 The Best Truffle Ramen with Miso Recipe:
| | |
| --- | --- |
| | For 2-3 people |
| Broth | Returns approx. 1l |
| 2 | Butcher onions |
| 500 g | Oyster mushrooms |
| 300 g | dried shiitake mushrooms |
| 8 piece | Garlic clove |
| 100 ml | Madeira |
| 50 ml | Sherry |
| 50 ml | matured soy sauce (shoyu) |
| 1 piece | Kombusheet |
| 3 EL | Hatcho Miso |
| green of 1 | leek |
| 1 piece (ca.15g) | Ginger |
| 1l | Vegetable broth |
| . | Water |
| | Salt |
| Ramen noodles | |
| 250 g | Flour (Type 550) |
| 2 pieces | Egg yolks |
| 2 tsp. | Kansui Water |
| 1 packet | Sepia Color |
| 2 splashes | Truffle oil |
| | Salt |
| About 50 ml | Water |
| Stained egg yolk | |
| 1 piece | Egg yolks |
| 50 ml | Soy sauce |
| 20 g | Sugar |
| 10 g | Salt |
| | |
| | To finish: Truffle oil |
| | Fresh truffle |
The best truffle ramen with miso. Guide:
1.For the fond, I roast two halved onions with very little oil in a saucepan until they are almost black. The same thing happens with half a garlic tuber. We need the maximum of roasted aromas. Shortly before I add the oyster mushrooms and delete everything with the Madeira and some sherry. I add a big sip of ripened soy sauce and fill the pot with water. Now I add the remaining ingredients.
The dried shiitake mushrooms, some ginger, early leek, vegetable broth, a kombu sheet and three tablespoons of Hatcho miso. I cook the fund for about 4 hours and occasionally fill it with water. The fund needs power. I am not talking about a completely over-spiced soy sauce, but about the power of mushrooms, onions and spices. Of course you should taste the miso but it is not the star in this ensemble. At the end I pass the brew through a cloth so that I get a clear, shiny broth. You can also work with pork bones here, but I prefer to stick to the vegetarian version.

2. Meanwhile. For the pasta I stir the egg yolk with water, the kansui water, salt, sepia color and yes, some truffle oil. I add the flour to the kneading bowl and add the egg-water mixture. Now I kneaded everything together into a solid pasta dough. This should be rather porous and dry. I then put the dough in the pasta machine so that after repeated roll out and fold, I get fine ramen noodles.

3. For the stained egg yolk, I stir soy sauce with the sugar and a pinch of salt. I put the egg yolk in it. This must be completely covered with the sauce. I let it pull for about 1 hour, carefully pull it out and wash it off gently.

4. Now I cook the noodles about 2-3 min. in the salted water. They should be al dente. I fill the broth in a bowl, add the ramen and gently place the egg yolk on the noodles. Then I take a high-quality truffle oil and let it run into the broth. (You can also emulsify the broth with truffle butter). Finally, sit over freshly planed truffles.
This post is also available in: German
You might also like