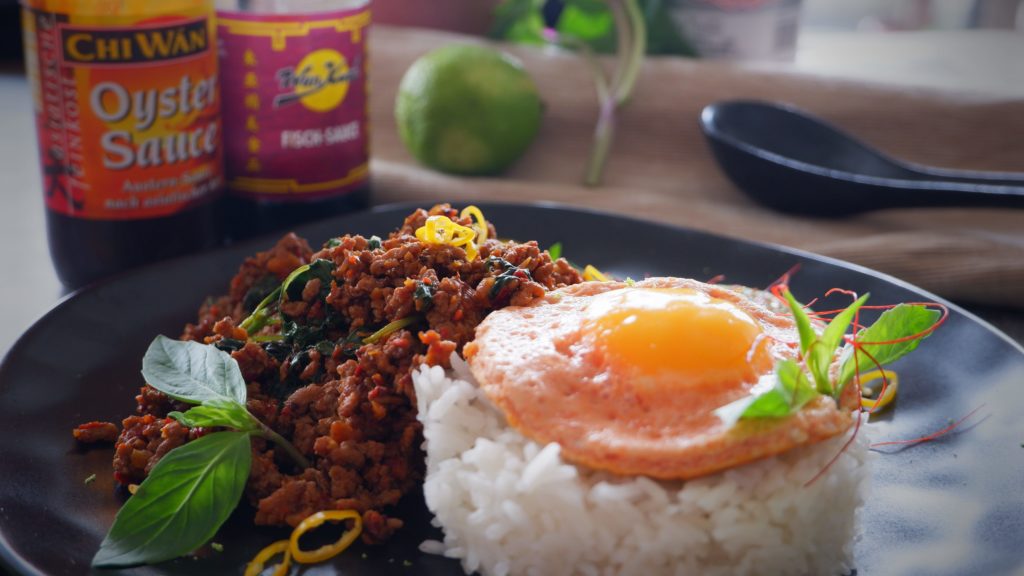 Pad Krapao is one of the dishes I would run under the heading "feel-good kitchen". In itself, minced meat with rice and fried egg is nothing special, but then it gets the classic dose of Thai herbs and Thai spices implemented, it turns into an extraordinary, tasty dish.
The variations of this dish differ widely, so you get it sometimes with chicken meat or sometimes with beef, sometimes with chopped meat or even with whole pieces of meat.
The first experience..
After consuming a few cool Chang beers with a student at the cooking academy in Bangkok, hunger began at the late hour, which is a really welcome situation in Bangkok. There is almost no city in the world where it is more satisfying to satisfy your beer cravings with something hearty than in Bangkok.
Slightly drunk, we placed ourselves in one of the many beer gardens in the district of Ekkamai. These places are really magical and that's because there's only one drinks stand there, surrounded by twenty small street food stalls, making the sales of his life. As soon as you have sat down and given up the beverage order, the sous chefs of the respective stalls are already swirling out and distributing their menus and recommendations.
Since my colleague had been in town for a little longer, he knew exactly what the Champions dinner would look like for tonight. I put my trust in his hands and was looking forward to his order. "Two Pad Krapao". " Two Pad Kra.. what?"
I didn't have an idea of what he had ordered and I've already assumed the worst. He just laughed and said, "You like chicken feet, do you?" I took a big sip of Changbier, stretched my body and said, "I'm ready for anything." I wasn't. I didn't like chicken feet at all. Have tried them once. Didn't have to be.
I was all the more surprised when we got our dishes. One thing I had learned in Thailand: there can be less of a lot here and this supposedly boring minced meat with rice and fried egg dish turned into my absolute hangover number one.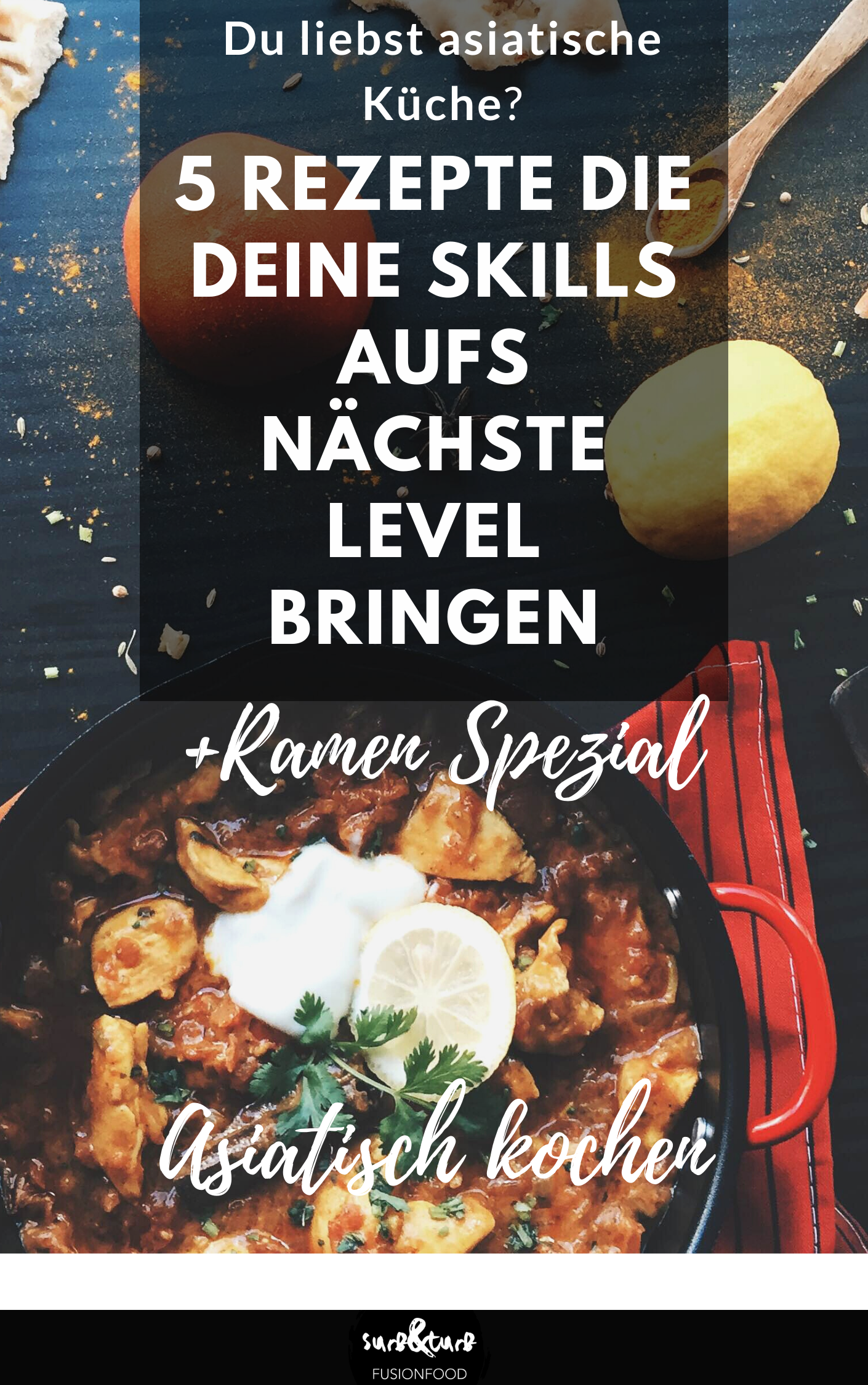 The fresh Thai basil with the spicy sauces conjures up a wow effect in your face, which makes you awaken from your beer dream and catapults you back into reality. A fantastic meal.
Anyone who says that if you do not get a Thai basil, you can also take normal basil, is hugely mistaken. If you want to experience the full broadside of a Pad Krapao, go to the next organic market or to his vegetable dealer of trust and ask for Thai basil. If the answer is "no," which is not unusual, ask if he can order it for you. His answer will be 95 'yes'. It's worth it.
Pad Krapao, Holy Basil, Chili Egg. Ingredients for 2 people:
| | |
| --- | --- |
| 500g | Minced meat (gemsischt) |
| 1 small | Onion |
| 100g | Thai basil* |
| 8 cloves | Garlic |
| 2 pieces | red chillies |
| 2 tbsp | Fish sauce* |
| 2 tbsp | Soy sauce |
| 2 tbsp | Oyster sauce* |
| 1 tbls. | Palm sugar or brown sugar |
| | Pepper and salt |
| | Salt |
| | Oil for frying |
| | |
| 200g | Jasmine rice |
| 1/2 tsp. | Salt |
| For the egg: | |
| 2 pieces | Eggs |
| 1 tsp. | Sriracha *(Chili sauce) |
| 1 tsp. | Tomato paste |
Pad Krapao, Holy Basil, Chili Egg. Here's how it's done:
Cook the rice with the same amount of water and salt, in a saucepan, at low temperature, with the lid closed. Some types of rice require more water. It is best to look at the packaging under "Preparation".
Meanwhile, finely chop the garlic and chillies, finely chop the onion and fry in a hot pan or wok, with a little oil.
Add the minced meat and fry with it.
Pluck the Thai basil leaves from the trunk.
Now season the meat with the soy sauce, the oyster sauce, the fish sauce and the sugar.
Add the Thai basil leaves and mix them neatly. Season with pepper and salt.
Meanwhile, separate the eggs and make sure that the egg yolk is not damaged. Put the egg whites in a small bowl, season with the tomato paste and sriracha sauce and beat with a fork.
Grease a frying pan and add the egg whites to the pan in two portions. After one minute, put the single egg yolks back on the egg whites and fry the fried eggs with the lid closed. The egg yolk should still be a little liquid in the middle.
To arrange, place the rice on the plate and place the egg on top. Arrange the chopped meat next to it and garnish with chilli and Thai basil.
The marked with asterisks (*) are so-called provision links. If you click on such a link and purchase via this link, I get a commission from your purchase. For you, the price doesn't change.
This post is also available in: German
You might also like