Yakisoba with duck and plum. The first restaurants reopen, which for me means "Finally ramen, ramen, ramen". Do you know this feeling, if you are already thinking about what you want to eat on the trip, perhaps you finally dare to do something other than the familiar and well-known "Tantanmen", then study the menu, which you already know by heart, for the hundredth time, in order to finally settle for what you know again? Not only because man is a habitual animal, but because it simply tastes good for kneeling down.
This time it will be different, I swore. Ok, some kimchi and a portion of Toro Teriyaki in advance is ok, but I'll skip the side with the ramen.
Slightly irritated, but strengthened by my plan I end up on the page with the Yakisoba dishes. This is a welcome change I think to myself and order without much thought a portion of fried noodles with pork belly and shrimp.
I close the card, quickly return it to the operator in the hope that it will clean the place next to me a little faster, for fear that I will decide again. I grab my phone and distract myself. Managed!
Yakisoba is a well-known dish from Japanese cuisine. Even if "soba" = "buckwheat" does not appear in this dish, the context is placed here on the classic "noodle" in general. So, on the whole, we are talking about fried noodles, which are served classically with vegetables, fish or meat, but are now also to be found in dozens of other variations. There are even Yakisoba sandwiches and Yakisoba salads.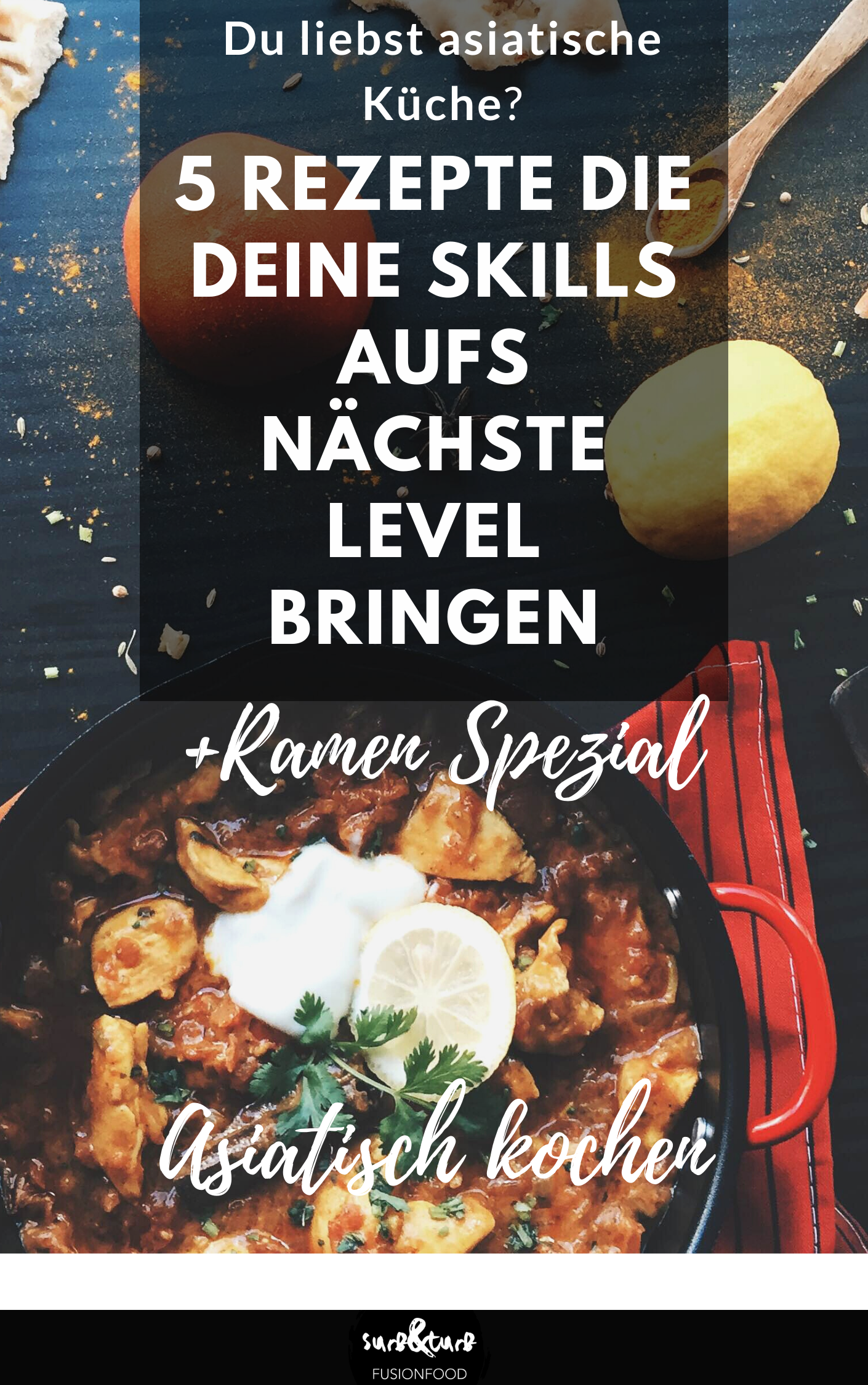 Kimchi and Toro Teriyaki didn't wait long and were consumed with a satisfied sigh, which suggested that I finally had my long-awaited favorite foods again.
With the last bite of kimchi, which was particularly delicious today, came the hotly awaited pasta dish. I took the blunt chopsticks in my hand and bravely grabbed the first portion of noodles that were quickly picked up with my mouth and scooped away.
Wow!! This was really damn delicious and made the idea of possibly ordering the wrong dish disappear like in the smoke.
The spicy sauce with the crisp vegetables and the perfect pasta. Simply unique! Especially the noodles, as with the ramen dishes, stood out by their somewhat rubbery, yet pleasant, consistency.
It was almost certainly alkaline noodles. You won't believe it but the difference is huge and I think it makes at least 20 of the whole court.
With the newly acquired knowledge and after a short digestive nap, I immediately get to work. Even though it is just mid-June, it is raining in torrents, which leads me to respond to stronger and deeper aromas. Duck and plum will judge it today. I would have liked to have resorted to Umeboshi (Japanese plums), but unfortunately I didn't get them anymore.
I get a chest and a leg from which I cook a light fond to soften the spicy taste of the yakisoba sauce and support it with a slight nuance of duck. The result is really delicious. Spicy alkaline noodles with a slightly sweet taste of plum and crispy duck breast. Really a dream.
Yakisoba with duck and plum. Ingredients for 2 people:
| | |
| --- | --- |
| Ingredients: | |
| 1 clove of garlic | Duck |
| 1 Tbsp. | Cornstarch |
| 1 Tbsp. | Flour |
| Oil | For baking |
| | |
| 1 piece | Duck leg |
| 2 cloves | Garlic |
| 1 clove of garlic | Onion |
| 4 tbsp. | 2 tbsp. Soy sauce |
| 1/2 tsp. salt | 1 tbsp. Salt |
| | |
| 5 large | Oyster mushrooms* |
| 5 cloves | dried plums |
| 1 clove of garlic | 1 piece red onion |
| 1 rod | Spring leeks |
| 3 clove | Garlic |
| 1 tsp. | chopped ginger |
| | 1 tbsp. Salt |
| For the yakisoba sauce: | |
| 2 tbsp. | 2 tbsp. Ketchup |
| 2 tbsp. | 2 tbsp. Soy sauce |
| 2 tbsp. | 2 tbsp. Honey |
| 2 tbsp. | Worcester sauce |
| 4 tl | Oyster sauce |
| | |
| | Togarashi Spice* |
| For the noodles: | |
| 240 g | Flour |
| 2 pieces | Egg yolks |
| 1 tsp. | Kansui Water* |
| 80 ml water | Water |
| 1/2 tsp. salt | 1 tbsp. Salt |
Yakisoba with duck and plum. Here's how it's done:
1. For the duck stock, peel an onion and two cloves of garlic, cut it into small pieces and simmer together with the duck leg in a saucepan with 1 litre of water. Add salt and soy sauce. Add the duck breast to the stock after 10 minutes and simmer for 5 minutes. It should still be bloody at its core. Then remove and leave to cool. When the stock is reduced to 100 ml, pass through a fine sieve.
2. For the pasta dough, mix all the ingredients together and make a firm dough. Leave to rest for 20 minutes. Then use a pasta machine to make the dough into thin noodles. Blanch the noodles in boiling water for a short time and then quench. The noodles should still have bite.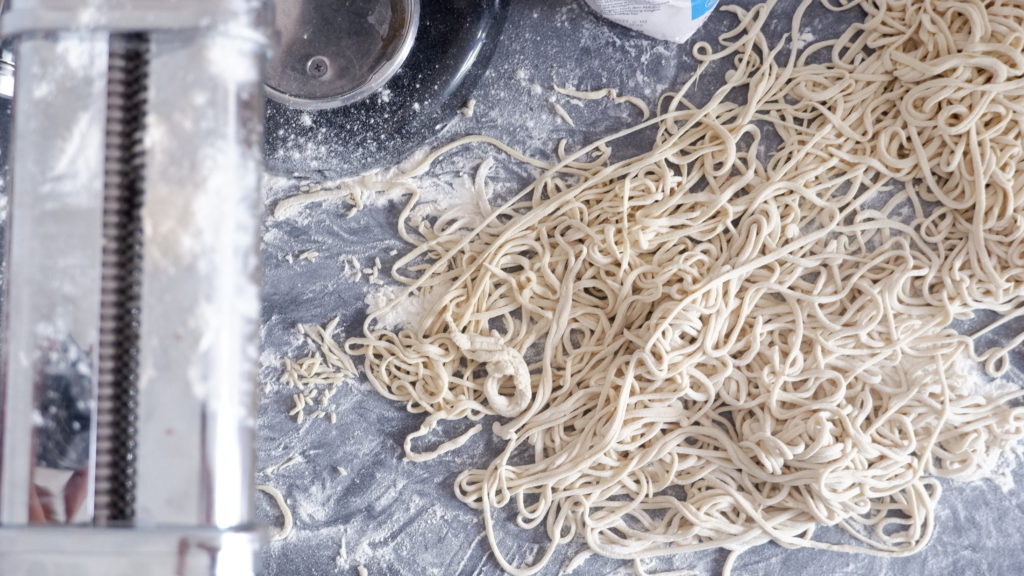 3. Peel the red onion and garlic. Finely chop the garlic. Cut the onions into strips. Pluck the oyster mushrooms a little smaller and cut the spring onions into 2-3 cm long pieces. Cut the plums into slices.
4. Heat a saucepan of oil for baking for the duck, to 160-180°. Mix the flour and starch, and turn the duck in it. Bake the duck in hot fat until the skin is nicely crispy.
5. For the yakisoba sauce, mix all the ingredients together.
6. In a pan or wok, heat some oil and fry the mushrooms, with the onion, garlic and ginger. Add the noodles and fry with them. After another minute with the duck fund, wipe off. Add the spring onions and plums and swivel through. Add the yakisoba sauce and mix. Season with salt.
7. Get the duck out of the fat and cut it open. Place the noodles on a plate and arrange the duck next to it.
Dhe marked with asterisks (*) are so-called provision links. If you click on such a link and purchase via this link, I get a commission from your purchase. For you, the price doesn't change.
This post is also available in: German
You might also like