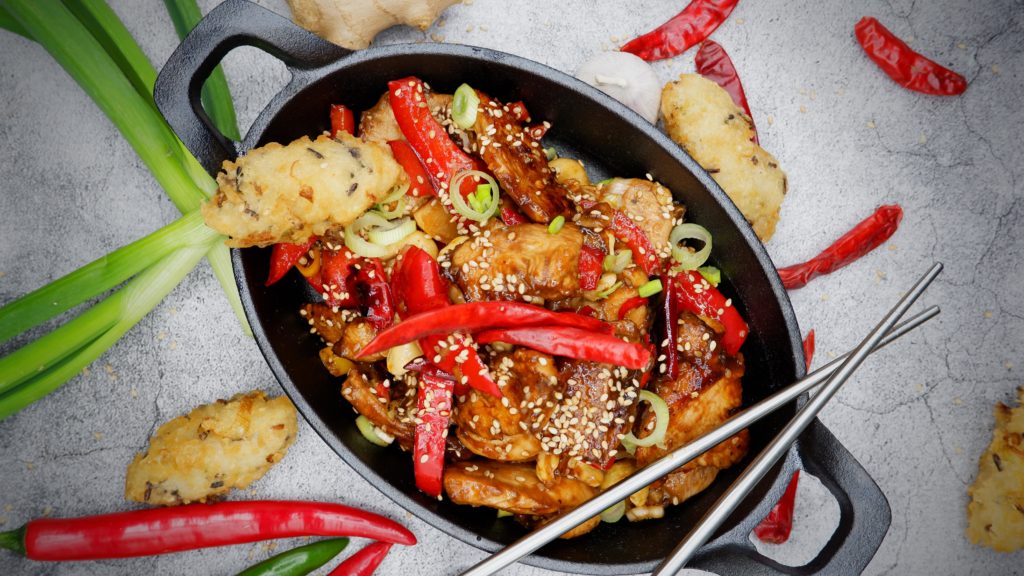 Szechuan Chicken
My penultimate day in Singapore was coming to an end and I knew that I would simply not reach my daily goal of visiting five different street food locations. It is one of those head-against-stomach duels, in which the bullet-round abdominal region begs you to consume nothing more, while the head has just a real run and tells you that the final stage of the aroma intake has not yet been reached.
Chinese Food in Singapore
Even if reason knocks from behind and advises you to let today's aroma intake sag first and philosophize about today's ephemeral palate safaris, the lettering "Szechuan Restaurant" flashed disco-like in various colors and lettering in front of my eyes.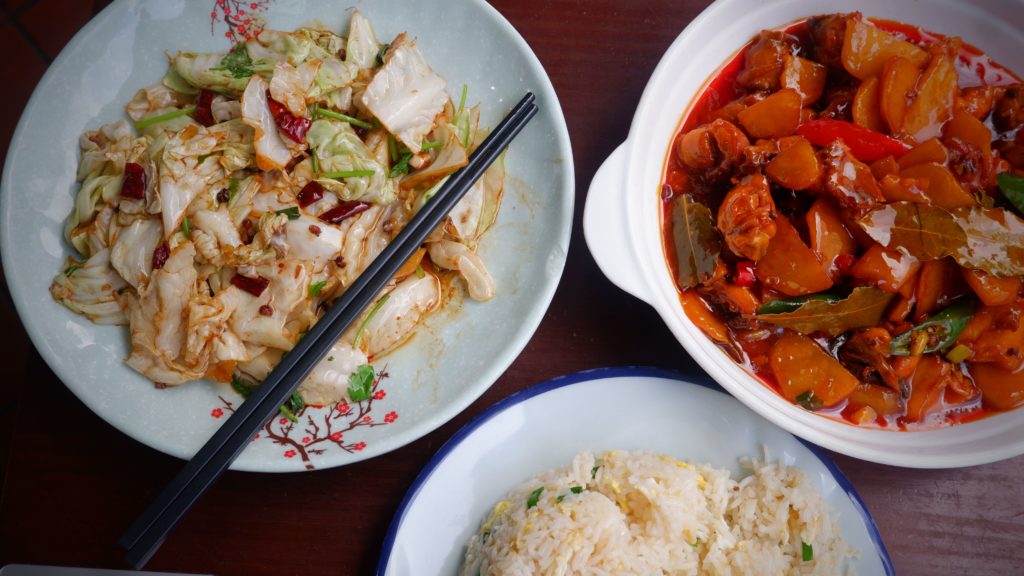 Anyone who now thinks that I was strong enough to be able to resist the colorful advertising signs is hugely mistaken! When it comes to GOOD food, I know no exception and only become another puppet of the culinary advertising industry. I let myself be dazzled by her and sat down in one of these chic, luminous places. "Well, today is probably not your day!"
Szechuan Kitchen
People often associate the Szechuan kitchen with the pepper of the same name, but it is only partially present in the dishes. The Szechuan cuisine comes from the Szechuan province in China and is defined by its extreme sharpness and usually also a lot of garlic. Nevertheless, it is a pure treat to taste it, because it is usually full of freshness and spices and provides a real variety in Chinese cuisine.
The Szechuan Chicken is probably the most famous dish and also the one I want to cook in my kitchen. If cooked rice is just too boring and just not exactly worthy of this tender chicken, I have decided to deliver THIS dish with a few Tempura Rice wild rice balls. Sure, I don't want to throw in window panes with these "balls" now but they should enjoy a certain "crunch"! Guys, all in all a perfect sofa snack, for anyone who would like to test their spice limit. P.s. I have easily distanced myself from the 15 chillies in the original recipe. (=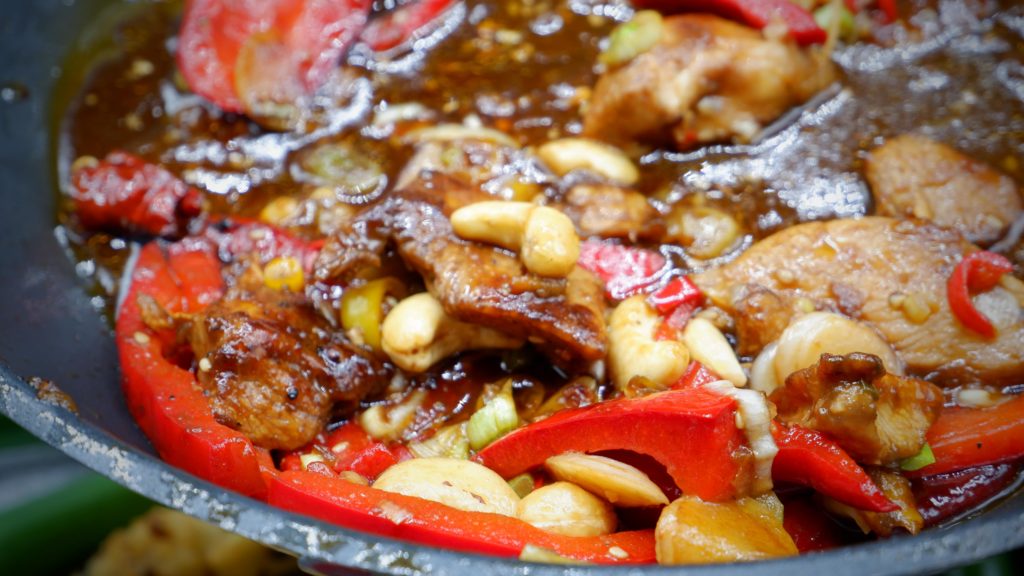 Ingredients:
| | |
| --- | --- |
| For 4 people: | |
| 2 pieces | Chicken breast |
| For the marinade: | |
| 3 tbsp. | Cornstarch |
| 1 tsp. | vinegar* |
| 3 tbsp. | Soy sauce |
| 2 tbsp | Sesame oil |
| 2 tbsp | Oyster sauce* |
| | |
| Other ingredients: | |
| 2 piece | Red chillies (in the original there are 10 pieces in it) |
| 1 piece | yellow chilli |
| 1 Tbsp. | Samba Oelek |
| 2 pieces | Red peppers |
| 1 thumb-sized piece | Ginger |
| 5 cloves | Garlic |
| 1 piece | Spring onion |
| 2 hands | Cashew nuts |
| | |
| 1 Tbsp. | Sugar |
| 1 Tbsp. | Sesame oil |
| 3 tbsp. | Soy sauce |
| 2 tbsp. | vinegar* |
| 1 Tbsp. | Szechuanpeffer * (initiated) |
| | |
| To fry | Oil |
| | |
| For the Rice Balls: | |
| 300g | Basmati rice |
| 100g | Wild rice |
| Tempura dough: | |
| 1 piece | 1 Egg |
| 100g | Flour |
| 100g | Corn Starch |
| 1tsp. | baking powder |
| 120ml | cold water |
| 1 pinch | Salt |
| Others: | |
| 1/2 perch | Leek |
| 1 tsp. | Sesame |
That's how it's done.
Cook the wild rice and basmati rice softly. Add 1 part rice with 2 parts water cold. Add a little salt and simmer lightly at a low temperature, with the lid closed. Stir occasionally.
Cut the chicken breast into fine strips. Mix the ingredients for the marinade in a bowl. Make sure that the corn starch dissolves. It makes the meat grumpy. Then add the meat for at least. Marinate for 1 hour.
When the rice is cooked, spread on a plate to cool.
For the Szechuan Chicken, cut the chillies and spring onions into fine rings. Finely chop the ginger and garlic. Cut the peppers into strips.
For the Rice Balls. Stir together the ingredients for the tempura dough in a bowl. Place a pot of vegetable fat and heat to about 160 degrees. Meanwhile, mix the lukewarm rice with the half-bar sliced leeks and sesame. Season with salt and turn off small balls. Put the balls in the tempura dough and then gradually bake them in the hot fat.
Now put the chicken in a very hot pan or a wok with a little oil for about 2 min. fry sharply. Once it has taken color, remove and place on a separate plate. Remove the pan with kitchen paper once and reheat. Then toast the garlic, chillies and ginger, then add the peppers and leeks. Add the pre-fried meat, the cashew nuts and the crushed Szechuan pepper and mix.
Finally add the sugar, soy sauce, sesame oil and rice vinegar. Bring to the boil once. Season with pepper and salt.
The references marked with asterisks (*) are so-called commission links. If you click on such a link and purchase via this link, I get a commission from your purchase. For you, the price doesn't change.
This post is also available in: German
You might also like