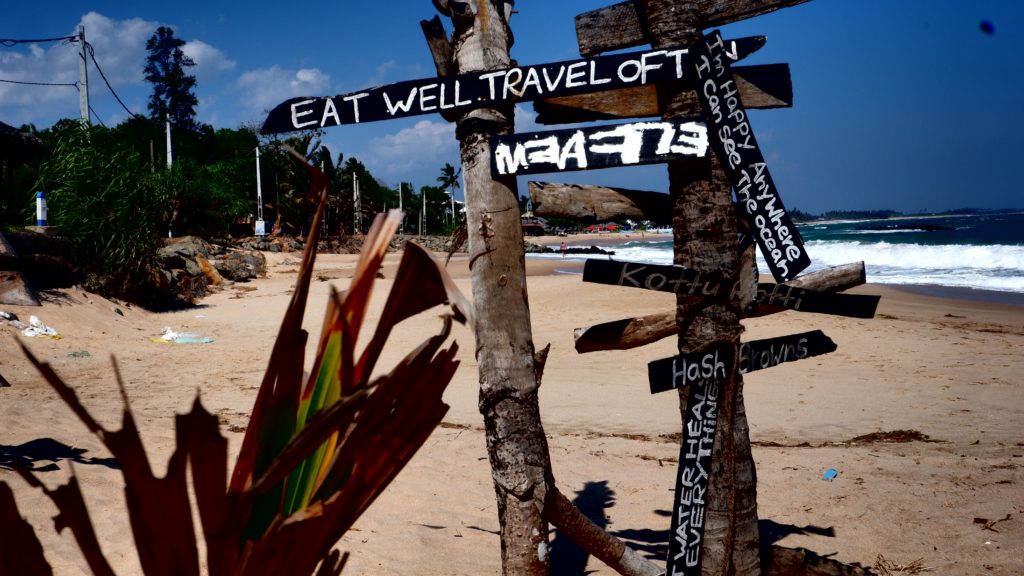 Sri Lanka Road Trip
I once heard that there should be more turtles than inhabitants in the Maldives. I think the same is true in Sri Lanka of tuk tuks and residents. No matter how far you get away from civilization, a tuk tuk will always get in your way. Unfortunately! Even if the president-in-office has stopped importing new vehicles, it will probably take a while for sri Lankan nature to recover from the small plague carriages.
While we in the West are scratching our heads about how to control CO2 emissions, the little devil machines are polluting this beautiful island with dense smog. A thousand meters above sea level, in the mountain village of Kandy, which is full of lush, green tea plantations and rainforest's, one should think that you should get a quick flush for body and lungs. Damn! At most, a black and tight gas exhaust run, which leads first to headaches and then to nausea. Disgusting! And the worst thing about it, nobody cares here!
Nevertheless, unlike before, Sri Lanka became a fascinating road trip and what you see here is making you speachless. Succulent green mountains with a panorama I've never seen before, followed by a huge steppe that is home to elephants, leopards, crocodiles and and and.., completed with a beach landscape, where palm trees are located in a breathtaking Formation, a beauty contest, that the camera will eventually run hot, because it just doesn't want to miss any of the self-actors. Botanical fireworks. Wow!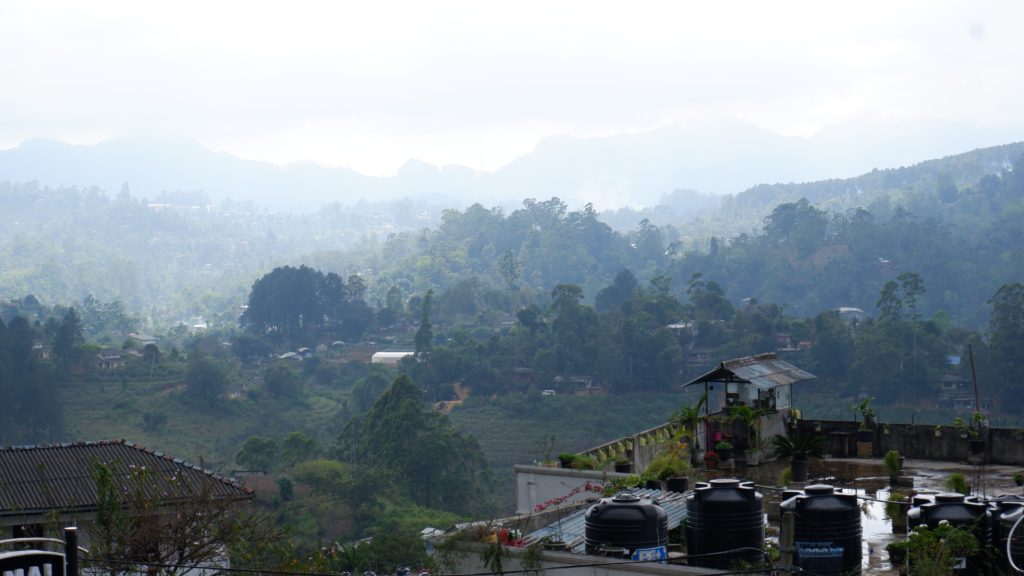 Sri Lanka Foodporn
Food report: Since my taste buds were still in deep hibernation after the Singapore stay, I approached the food question with rather subdued expectations. If a lot of people had told me before that I didn't expect too much in Sri Lanka, I screwed my attitude into the basement. From there it could only go up.
People.. You're wrong!! Wow, wow, wow.. If I noticed a lot of Indian influences already in Colombo, the food must logically follow. Legendary curries, daal, kottuRoti, dosa, sambal, devilled chicken and hoppers sweetened me every day. The best place to enjoy street food and to create a food report. What more does a blogger want? It is a blessing. In addition, most of the spices are found right here at home.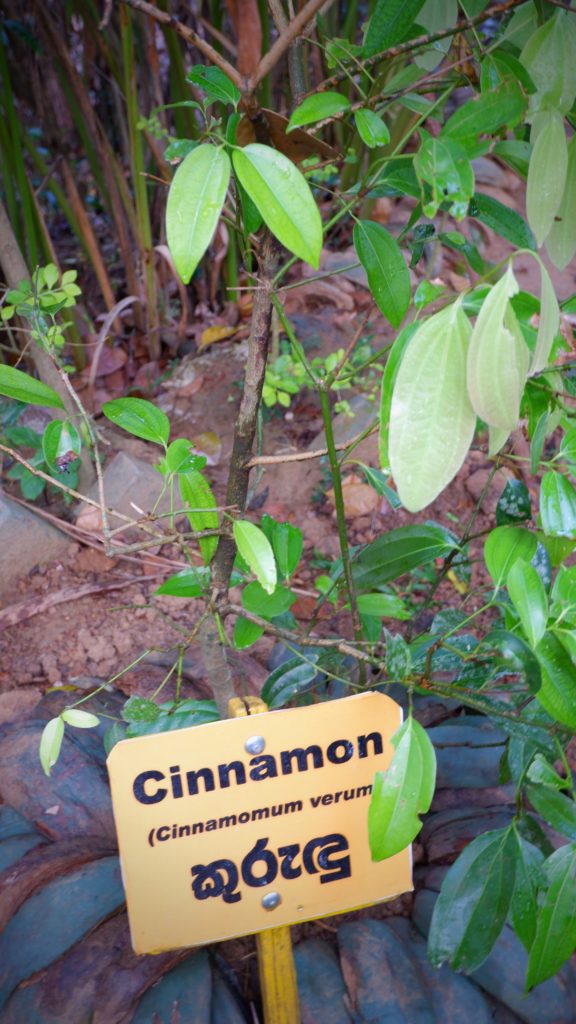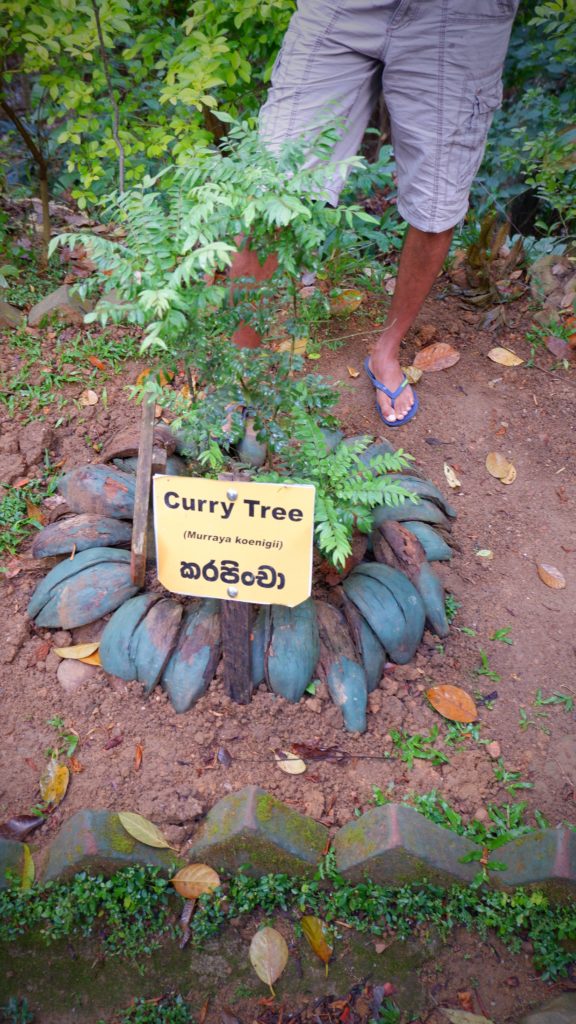 Carnations, large as paper clips, fresh cardamom, green pepper trees and cinnamon bark, the hair tips curl up with the smell. Madness!! Much of the Ayurveda cuisine has found its origins here and if you take a closer look at the natives of Sri Lanka, with which power and energy they manage the day, there seems to be something true about the fact that spices are attributed healing effects. If you are what you eat, then you are here part of an amazingly strong and healthy flora and nature. Natural Power!
Locomotion
Uber and Pickme App: For twenty km you pay about five dollars. That is probably more than fair. You can order both cars and tuk tuks, although I have shunned the latter because of the environmental aspect. The apps don't always work. So only a few drivers dare to go to the tourist regions, because otherwise the Tuk Tuk Mafia could take your car apart because of losses.
Train ride: Ridiculously cheap. Buuuut.. It gets tight on the train and sometimes quite warm. For a journey of 100 km you pay just under one euro. The view is always worth it!!
By train we went from the capital Colombo to Kandy to my first stop:
Kandy:
To do: Buddas Tooth temple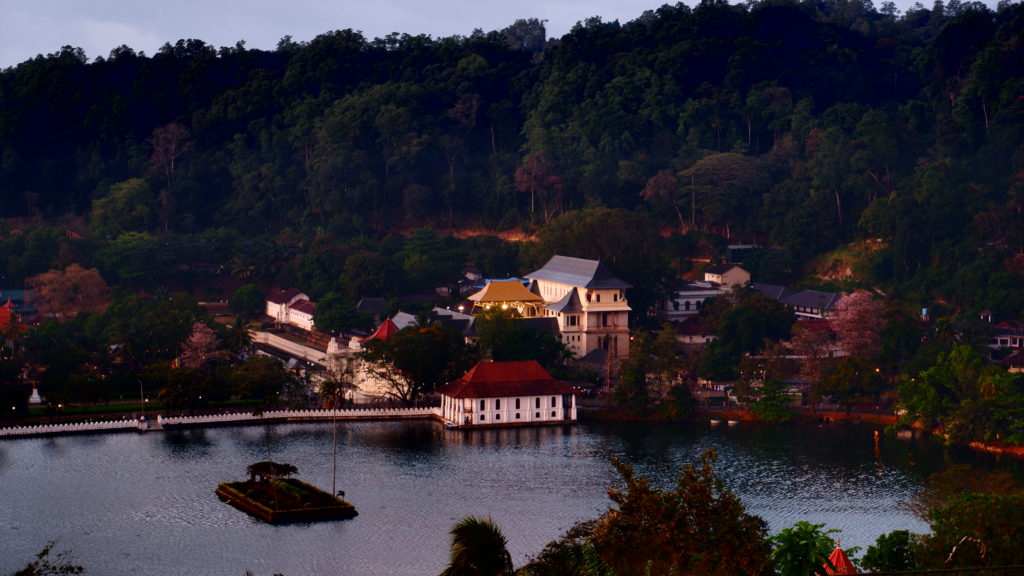 Waterfall experience

Lake view
Food: Nagalingam's Bhavan
A large part of the restaurants here are rather vegetarian, which was more than right for me. Incredibly crispy dosas, filled with potatoes and a super tasty chickpea dip, were served along with freshly baked naan bread and delicious curries. One thing you need to know: When you order a curry, you always get a plate of rice with at least 4 bowls. The main curry, a daal, a sambal and a sharp dip. It's paradisaical.
From here starts the unique and legendary train ride through the mountains of Sri Lanka. Waterfalls, deep valleys and dense rainforests make the chin drawdown sag down. The route from Kandy to Ella via the beautiful mountain village of Nuvariaelia offers a first-class panoramic spectacle. Sitting with your legs hanging out of this old train and looking at this wonderful scenario, it has something nostalgic, something very reassuring. You put the camera to the side, bite into the juicy pineapple that a henchman on the train sold me and look into the depths of this country. One reaches a "trance-moderate" status, while the impressive images pass you at a "snail's pace" and from a "yes", we have to do something for the environment, becomes a: "damn YES, it's just before twelve".
Nuvara Eliya:
Home of Ceylon Teas, many English influences, which are reflected in the form of British guest houses, a horse race course, an English garden and the better-heeled tourists of Sri Lanka, paired with wild weekly markets, local bakeries and the typical tuk tuk madness. All this in one village, very high up in the mountains:
To do:
Enjoying nature
Visit tea plantations
Tasting tea
Food: Definitely the hoppers that are prepared in one of the countless bakeries. Perfect street food for in between.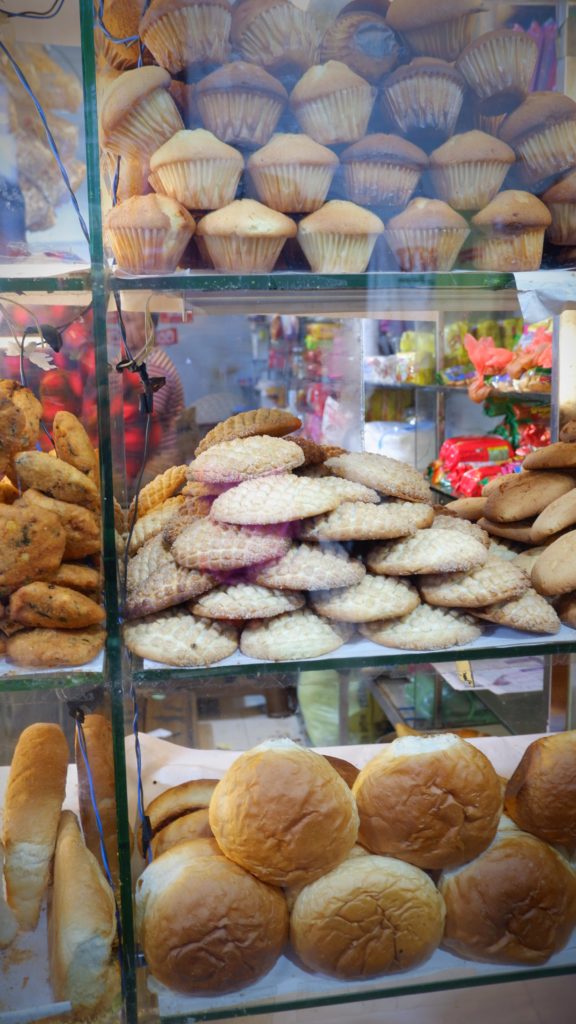 Aralya Foodcourt: Very modern food court that offers international cuisine.
Grand India: Since Sri Lanka is known as the tear of India, you should try Indian cuisine. This restaurant has been completely convincing.
Ella:
Very touristic mountain village, which offers a lot of Western culture on its central shopping street. Coffee shops, sports bars and burger shops.
Around Ella, however, the attractions are piling up.
To Do: Climb Little Adams Peak
Nine Arches Bridge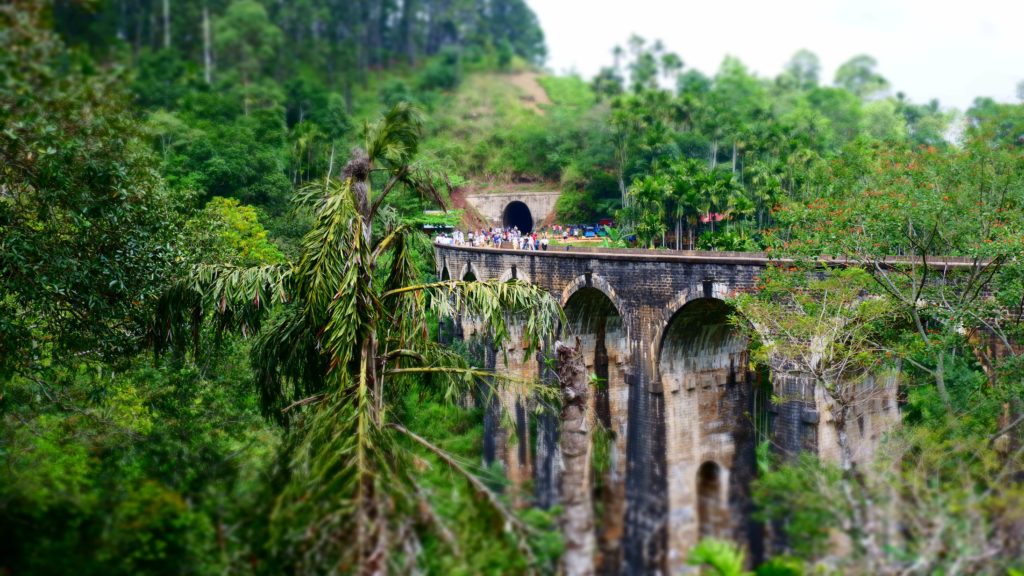 Ravana Falls
Spicegarden
Food: Matey Hut: Also offers cooking classes. By far the best restaurant I visited in Sri Lanka.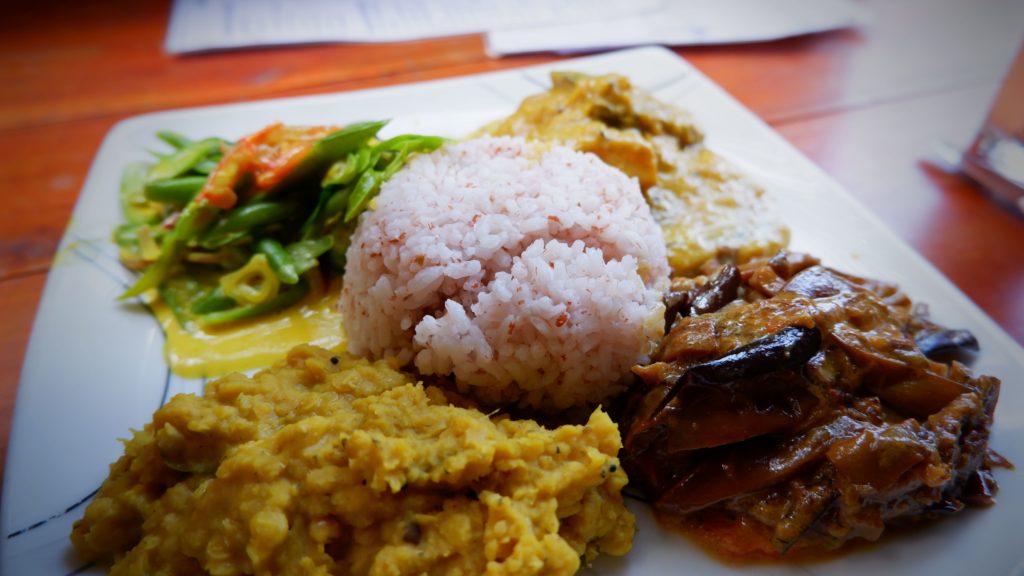 Spice Garden Ella: Impressive cooking class with spices from your own garden.
Uladawale N.P.
By taxi we went on to the savannah of Sri Lanka, in the Uladawale National Park, 2 hours away. Incredibly great safari on a very large area. One rarely had the feeling of disturbing the animals. Of course, one often meets other groups, nevertheless the park is so huge that the animals find their rest here.
Further is going to south.
Tangalle:
On a three km long beach you can watch the palm trees soak up the sun. A wild ocean with strong currents does not exactly invite you to swim, nevertheless you can make a really nice holiday here. Despite many restaurants and hotels, tourists tend to stay away. Locals are still talking about the aftermath of the terrorist attacks. I didn't feel insecure in any situation!
To do: Turtle watching
Whale watching
Visit the lagoon
The blue hole
Food: With the Tangalle Rice and Curry you definitely don't do anything wrong.
Also highly recommended is The Tree's
The beach restaurants offer the typical traditional food To. In addition, there is also freshly caught Fish.
Caution: When you see how the fish is sold here, you will be very different. There are dozens of street vendors who present the fish all day without cooling in the sun.
The restaurants often have a disadvantage here: Since the tourism here rather lacks, the ingredients are often only bought after you have ordered. Even the drinks. You take it with humour. The food is usually super tasty. Record waiting time: Two hours and thirty minutes.
Walligama:
Last stop of my trip takes me to the surf stronghold Walligama. Countless surf hostels, surf schools and western superfood restaurants bring a certain hipster flair to the small fishing village. The waves are quite small and Welligama is therefore especially suitable for beginners. Nevertheless, it gets higher and higher on the right side and it is animal fun to surf here. Yes, the line-up is bursting, but still you will find a shady place somewhere in between.
To do: Surfing
Food: Despite western trendy bistros offering cereal bowls for expensive money, you will also find great local cuisine here.
At Meewitha you will find delicious down-to-earth cuisine at low prices.
Kottu is probably one of the most famous street food in Sri Lanka. Small cut rotti (kind of crepes), fried with vegetables and many spices. Just good!!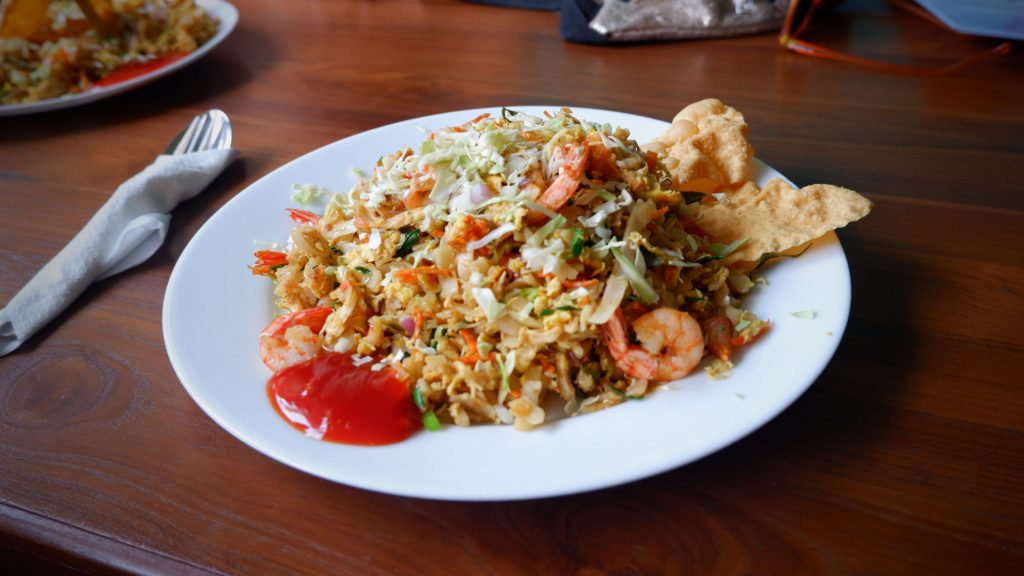 At Hangtime, the local cuisine is less at home. Nevertheless, there are super tasty burgers and great fish variations.
Nightlife: Who is surprised, that so far not much has come to this topic. Since you can get alcohol almost only in so-called wine shops and in many regions (including Welligame) the restaurants and bars have to close at ten o'clock, the party takes place here in the hostel. Yes, you can drink your own beer in the local restaurants if you ask nicely, but welcome is something else.
Conclusion
A state that is about the size of Bavaria, with such a pronounced flora and fauna, spread over different natural stages, can only get a full ten points. Deductions are definitely available for the masses of tuk tuks and for a lot of traders and taxi drivers who want to take the money out of your pocket. In itself, the people here are very friendly and I never felt like I was in a weird situation. Yes, Sri Lanka is thirty years back in many aspects, which does not make the country any more unattractive, probably more nostalgic. For travellers looking for luxury: Yes, you will find it but you have to leave your comfort zone more than once!! The food here is the bright madness!! The spice palette used here alone makes a passionate chef cry tears of joy. The cooking trade is by no means simple or easy. Many dishes live with unbelievable precision and especially in the vegetarian area fireworks are burned here. I am deeply impressed and will definitely come back!
This post is also available in: German
You might also like