Wild Dim Sums for re-cooking
When you eat, you try to challenge and satisfy the different senses as best you can. First we visualize and smell something, perhaps a pleasant acoustics of the brooding preceded, as when small H2O particles meet hot fat. Even if for many people it brings with it an association of long stove cleaning, for the connoisseur it is usually a sign of roastaromas of a strong, crispy taste.
The first touch describes the texture.
It gives us hints at the taste. We have saved certain images with different textures and are surprised if the consumed product does not correspond at all to our stored thoughts. Sometimes we feel something completely new, taste an unprecedented taste and let ourselves fall into a stunned state of happiness that spreads a soothing warmth throughout the body.
Dim Sums (Cantonese: touching the heart) are those of these delicacies that bring almost all these characteristics.
The blubber of boiling water, which makes hot steam rush through the braids of bamboo.
The soft and delicate texture, which dissolves almost by itself in the mouth, as if it were cotton candy.
The surprising taste at its core, which we can only speculate about until we bite it for the first time.
This warm and powerful finish that gives us a sense of harmony and bliss.

Winter is approaching in great strides. I chose a very powerful and expressive version of these small, steamed dough bags from the Far East.
Wild Dim Sums for re-cooking:
Wild dim sums for recooking. Ingredients:
| | |
| --- | --- |
| Dim Sums for 4 people | |
| Dim Sum Dough: | |
| 250g | 100g Flour |
| 100ml | Fruit/vegetable juice |
| 1 pinch | Salt |
| Deer filling: | (colour for the dough: red (cherry juice) |
| 200g | Deer back or club |
| 1/2 tsp. Salt | Quatre Epices / Wildgewürz |
| 1/4 Tl | Cocoa (tender bitters) |
| 2 tbsp. | Cranberries (chopped) |
| 2 tbsp. | Teriyakisoße |
| 1 pinch | Salt |
| Wild boar filling: | (colour for the dough: green spinach juice) |
| 200g | Wild boar leg |
| 5 pcs. | dried Plums |
| 1 tsb. | dark beer |
| 1 tsp. | Misopaste (bright) |
| 1/2 tsp. Salt | Honey |
| 1 tsp. | 1 tsp. Mustard |
| 1 clove | Garlic |
| 1 pinch | Salt |
| Duck filling: | (color for the dough: yellow orange juice and turmeric) |
| 200g | Duck breast without fat |
| 5 pcs. | dried Apricots |
| 1 small piece ginger | Ginger |
| 1 pinch | 1 tsp Cinnamon |
| 1 pinch | Anise |
| 1 tsp. | Soy sauce |
| 1/2 tsp. Salt | Honey |
| A pinch | Salt |
| For the Wild Fond: | |
| Sections of | Deer, Wild Boar, Duck |
| 1 piece | Carrot |
| 1/4 pcs | Celery |
| 1 piece | 1 Onion |
| 1 tsp. | Misopaste (bright) |
| | Salt |
| To go out: | |
| | Sesame oil |
| | Roasted sesame |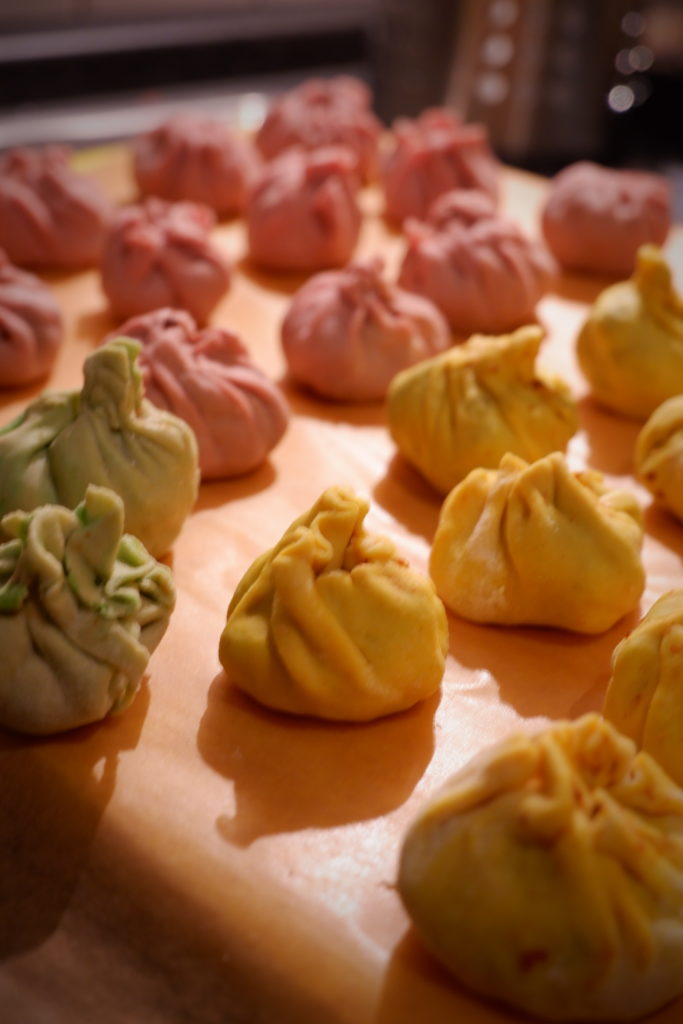 Wild dim sums for recooking. Guide:
1. The classic dim sum dough actually consists only of flour, water and salt. I have replaced the water with fruit/vegetable juice to dye the dough naturally.
First, mix flour, fruit or vegetable juice (e.g. cherry or beetroot for red) and salt into a firm dough and let it rest for an hour.
2. Meanwhile, one takes the meat piece of your choice parries this of fat and tendons and cuts it into very fine cubes. You can also take minced meat. There are also very interesting ideas with vegetables. To the meat you then add the spices, herbs and the dried fruit. Everything has to be cut very finely and mixed well.
3. From the dough, roll out very thin tracks. They should be as thin as a pasta dough. Then spread the filling evenly over the rolled-out pasta webs. I've always weighed a teaspoon full. Now you take a circular cookie cutter and poke out the circles including filling. You carefully rotate the dim sums in a circle and gradually close the small dough pieces with your thumb and index finger. Always from the edge to the middle. They should look like small bags.
4. I cooked a strong broth from the remaining meat sections. Simply add the sections (deer, duck, wild boar) in a saucepan with water, add some vegetables (carrot, celery and onion) and miso and let them reduce considerably. The broth serves more as a dip, so 200ml is enough.
5. Now set up a pot of water and bring it to the boil. Put the dough blanks in a bamboo basket and let them steam for about 7-9 minutes over the boiling water. You can also take a simple household sieve if you don't have a bamboo basket at hand. However, it is important that you always use a lid so that the steam can actually do its job.
6. After the elapsed time, take out the dim sums and place them on a plate. Then add some of the wild stock and drizzle everything with roasted sesame oil and reddened sesame.
This post is also available in: German
You might also like