Summer avocado ravioli with papaya….
Nice. The avocado is sneaking in to the top of my favourite berries. That is it, from a purely botanical point of view. Apart from the fact that this beast is totally healthy and, in addition to unsaturated fatty acids, also brings half the vitamin alphabet, the deep, green fruit is also totally diverse in your preparation method. So immediately after the implementation of my second post (baked avocado), the idea came to the present dish.
Light kitchen..
The Thai cuisine includes an incredibly wide range of fresh ingredients, which in most cases land very light and gentle on the plate. I don't have to mention that the avocado is not an unwritten leaf there, but nevertheless you won't find many dishes in the archives that contain the wonder-berry.
Since I now know that the avocado can be processed warm, if you give it the right anti-oxidation treatment, I came up with the idea to cover it thin into a coat to prepare you for autumn.
However, she gets the full load of summer from me again, supported by the light ingredients and spices that the Thai cuisine has to offer. As a big pasta fan and proud owner of the new noodle rolls for my Kitchenaid is clear – this will be a ravioli. And since the Thailand Trip is already planned for next spring 2020, I can practice here a little.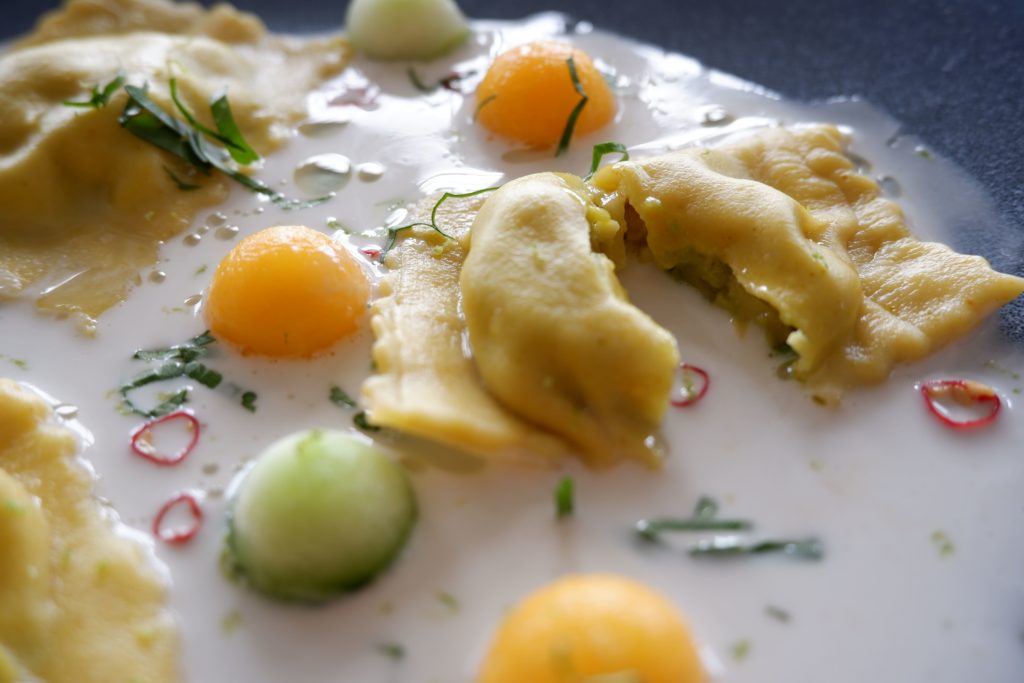 Summer avocado ravioli with papaya. Ingredients:
| | |
| --- | --- |
| Spice Sud | For 2-3 people |
| 500 ml | Coconut milk (creamy) |
| 2 rods | Cinnamon |
| 3 capsules | Cardamon |
| 2 pieces | Bay leaf |
| 2 cloves | Garlic |
| 1 thumb-sized piece | Ginger |
| Juice of 2 | Lime |
| 4 piece | Lime leaves |
| 1 piece chilli | 1 Makis blossom |
| 2 pieces egg yolk | 1 piece leek |
| 50 g | Cane sugar |
| | Salt |
| | |
| Raviolis | |
| 300 g | Wheat flour (type 550) |
| 4 piece | Egg yolks |
| 2 pieces egg yolk | 1 Egg |
| 1 tsp. | Curry powder |
| | Water |
| | Salt |
| 1 | 1 piece Avocado |
| 1/2 | 1 piece Mango |
| 1 tbls. | Tamarind paste (sweetened) |
| Juice of 1/2 lime | Lime |
| | Salt |
| | |
| pickled vegetables | |
| 1 | Papaya |
| 1 | Cucumber |
| 100 ml | Balsamic bianco |
| Juice of 2 | Lime |
| 30 g | Sugar |
| 2 cloves | Garlic |
| 1 piece chilli | Chili |
| 2 branches mint | Mint |
| | |
| Finish | |
| 100 ml | Rapeseed oil |
| 5 branches | Mint |
| 1 | Chili |
| 3 branches | Coriander |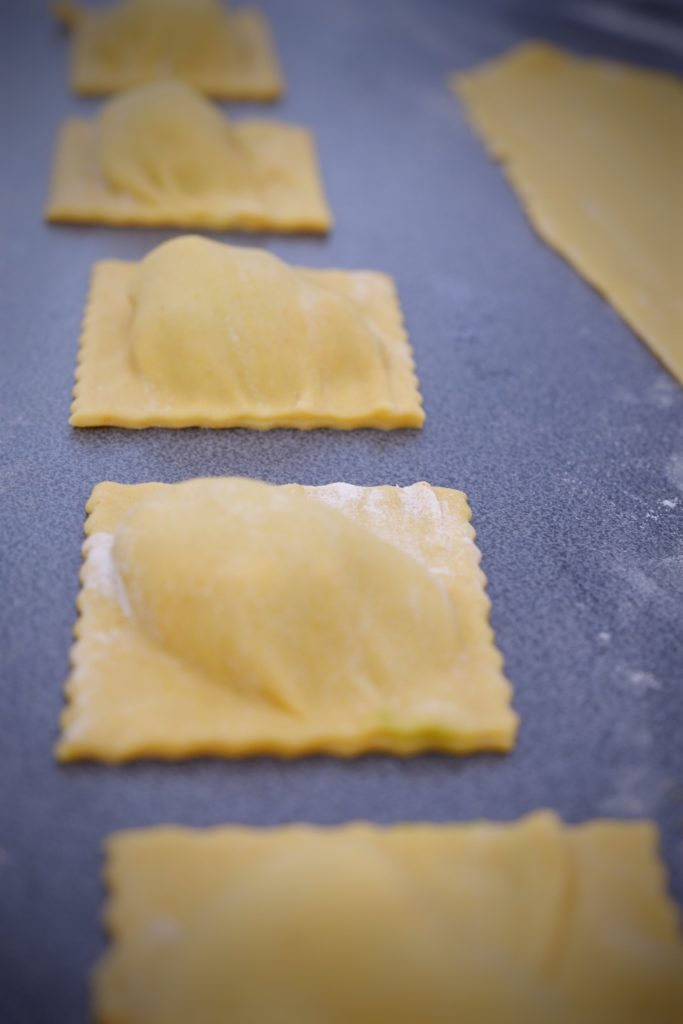 Summer avocado ravioli with papaya. Guide:
1.First, put on the spice sud. For this I put creamy coconut milk in a pot. The following spices are added: cinnamon, lime leaves, cardamom, makis flower, lime juice, cane sugar, garlic, ginger, early leek, laurel. All this can be simmered at a low flame for about an hour, so that the aromas can unfold properly. The goal is a warm and spicy brew that forms an aromatic, light base balanced by sweetness and acidity. If you have reached the desired taste, you put the brew in a passer-by sieve to separate it from the spices.
2.For the pasta dough, whisk the egg and egg yolk squid with the curry into a yellow mass. Mix these with the flour, a pinch of salt and, if necessary, some water to form a firm and moist dough. This must be kneaded well (at least 5 min) and must not become too moist, even if it is advantageous that the dough becomes a little more elastic. Cover the dough for at least 1 hour or leave to rest in the fridge.
3.For the filling, cut an avocado into small cubes. The same is done with the mango. Mix the two together and add some salt, lime juice and tamarind. By the way, you put on a pot of water and bring it to the boil. The water should be well salted.
4.Now roll out the dough flat with a pasta machine or with a rolling pin, fold it on a floured work surface and repeat this process. This gives the dough more structure and support. In the end, it should be between 1 and 2 mm thick. Spread the avocado mango mixture at small intervals (approx. 5 cm) on the spread pasta tracks. If they are outside for too long, they must be covered with a damp cloth so that they do not dry out. Sprinkle the edges around the filling with liquid protein and carefully place another web on the already processed. Carefully press the edges. So solid that there is no more air in the individual chambers, but not so firm that the mass leaks. Now the raviolis can be pierced or cut out. There are numerous aids for this, such as rings, stamps or ravioli cutters.
5.I scooped out the papaya and cucumber with a Parisienne cookie cutter. From lime juice, vinegar, sugar, garlic, chilli and mint, I've added a brew to put in papaya and cucumber to pick them easily. Simply cook all the ingredients together. Pull the pot from the stove and put fruit and vegetables in it. They can drag on there a little bit.
6.Now the raviolis are cooked. For this purpose, they are placed in the previously added water and cooked for about 4-6 minutes, under light boiling.
7.The brew is heated and prepared in a plate or bowl. Place the hot ravioli in the brew and spread the papaya and cucumber. I decorated with some coriander and chopped chilli. I also pureed fresh mint and oil to a green mass and put them through a coffee filter so I could get a fresh mint oil. This gives the whole thing the kick again. Add a little lime abrasion and juice over it. Enjoy..
This post is also available in: German
You might also like