In this short post, I would like to introduce you to my version of the crispy-fried noodles (Chow Mein). Almost three years ago, I started this blog to pick up "cooking enthusiasts" like you and cook traditional and modern dishes. Even though I always get a lot of encouragement for different dishes and recipes, I don't want to deny that there are also voices that don't really feel picked up. There may simply be a lack of basic knowledge and for this reason I have decided to introduce simpler dishes.
According to the motto: "better to start than to wait perfectly", I would like to introduce you to my cookbook including video course on Asian cuisine. From curry paste to teriyak sauce, from simple ramen to chicken tikka masala, there's something for everyone in this book! On almost 300 pages + 5 hours of video course I show basic and basic recipes but also traditional classics and modern interpretations. Just have a look!
Fried noodles is a rather broad umbrella term. Almost every country has its own version of fried noodles and today I would like to introduce you to one of the most common ones. Chow Mein, similar to the Chop Suey, are more of an American-Asian dish and can be found all over the world.
Many aspects play a decisive role here, but are often overlooked.
– What do I actually want to fry? Often all ingredients are thrown into a wok or pan at the same time. No pronounced roasted aromas can be produced and the ingredients are cooked rather than fried. It is important to follow the correct order. With fried noodles, I like to start with the noodles. After all, they are supposed to be fried and I like it when they are nice and crispy. Then I gradually add the other ingredients.
– The main thing is to fry in a wok! This, too, is a common misconception. More important than our frying device is definitely the right heat source. With a ceramic hob, you should rather resort to a pan. With a gas stove you can use a wok. In any case, the underside of our fryer should have the same diameter as our heat source.
– Different ingredients-different cooking times! Each ingredient needs its own individual cooking time. By cutting into different shapes and sizes, this can be influenced. Chicken meat takes longer than sprouts and carrots longer than Chinese cabbage. For this reason, you should always pay attention to the correct order. Here you can be creative. Just use the ingredients you like!
Gebratene Nudeln (Chow Mein)
Ingredients
300

g

Gekochte Nudeln

1

Stück

Große Möhre

1/4

Stück

Chinakohl

1

Hand

Sprossen

1

Zehe

Knoblauch

8

g

Ingwer

200

g

Hähnchenbrust

1

EL

Stärke

1

Prise

Salz

2

Stück

Lauchzwiebeln

2

EL

Rapsöl
Für die Soße:
2

EL

Austernsoße

2

EL

Sojasoße

1

EL

Sesamöl

1

TL

Honig

100

ml

Hühnerbrühe

1

TL

Stärke
Instructions
Die Pfanne oder den Wok auf hohe Temperatur erhitzen. Etwas Rapsöl in die Pfanne geben und die Nudeln kurz knusprig anbraten. Nach einer Minute die Hitze um die Hälfte reduzieren und die Nudeln kross anbraten.

Währenddessen, das Hähnchen in mundgerechte Stücke schneiden. Mit der Maisstärke marinieren und etwas salzen. Kalt stellen.

Die Möhre, Knoblauch und Ingwer schälen. Die Möhre in Streifen schneiden. Knoblauch und Ingwer durchhacken. Den Chinakohl in feine Streifen schneiden. Die Lauchzwiebel in 2-3 cm große Stücke schneiden. Die Nudeln zwischendurch wenden.

Für die Soße, Hühnerbrühe, Austernsoße, Sojasauce, Sesamöl, Honig und Stärke miteinander vermischen.

Jetzt die Nudeln etwas auf die Seite verlagern und das Hähnchen hinzufügen. Die Temperatur etwas erhöhen. Das Hähnchen kross anbraten.

Nach einer Minute, Knoblauch, Ingwer, Möhren und das weiße der Lauchzwiebeln dazugeben. Eventuell noch etwas Öl hinzufüge

Nach zwei weiteren Minuten den Chinakohl hinzufügen und vermengen.

Sobald die Zutaten Röstaromen angenommen haben, mit der Soßenmischung ablöschen und die Sprossen sowie das grüne der Lauchzwiebeln hinzufügen.

Für eine weitere Minute kräftig einkochen. Alles miteinander vermengen und servieren.
Video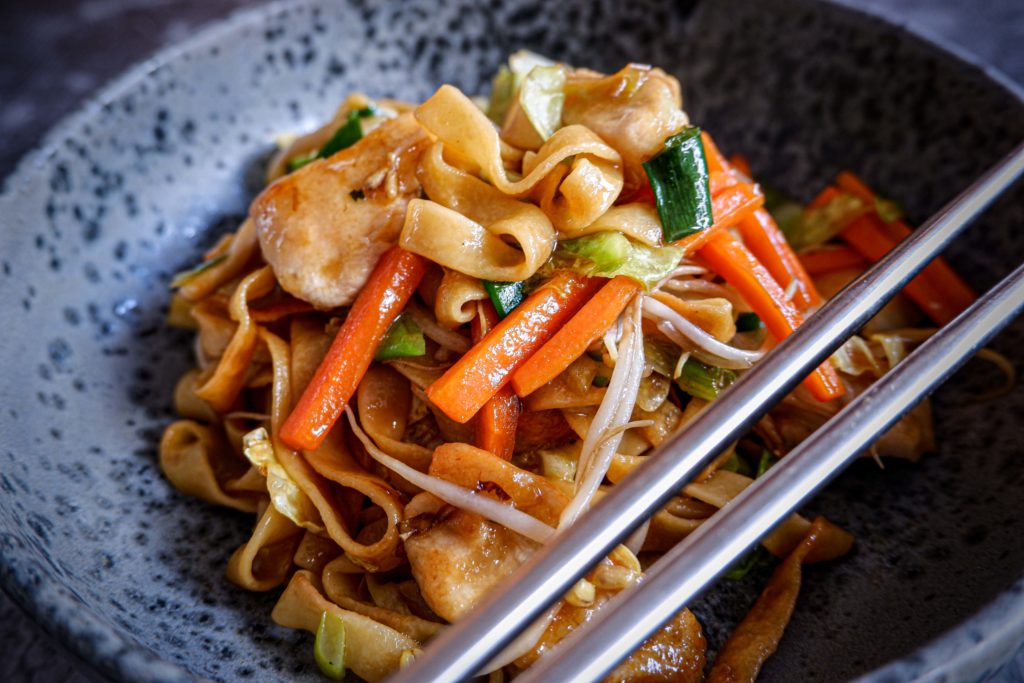 This post is also available in: German
You might also like