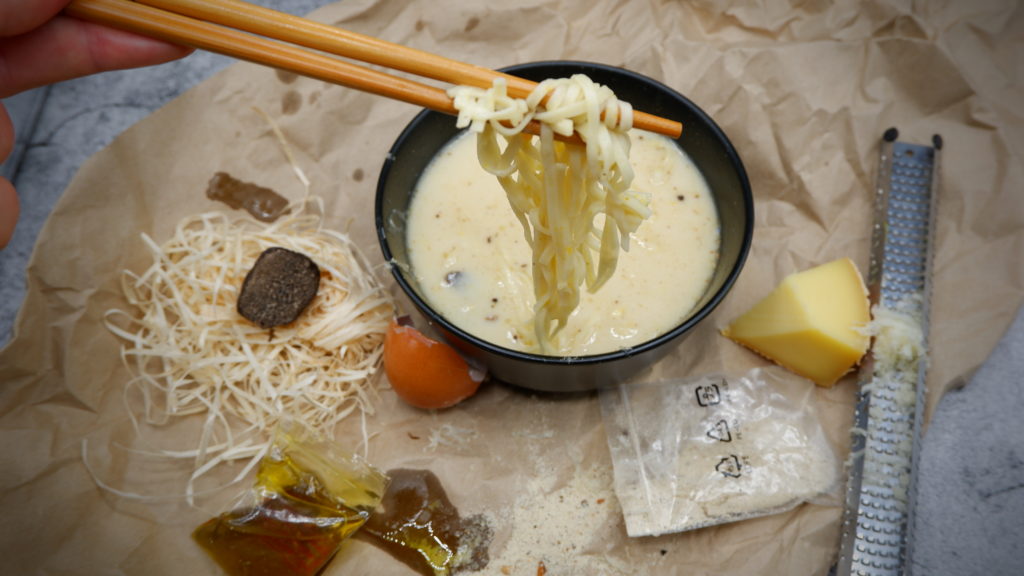 It is probably one of the most popular dishes on my blog. The Black Truffle Ramen is very popular and the reactions are largely positive. A frequently heard criticism is probably that this dish is rather expensive to recook. I can understand it in any case, but some courts just need their time and an acceleration would probably have a negative impact on the end result. So what to do if you don't have much time and still want to treat yourself to a pasta snack of a slightly different variety?
Why not just instant?
Pasta snacks are very popular and there is a large following who simply love the quickly prepared snack from the bag. I have to say that I too am a friend of the little spice bags and simply have to celebrate the small, quickly prepared umami bombs. Even if the package information is full of different flavors and additives, you can probably overlook these points once a week and go into the instant noodle kingdom.
But what does it take to make your own instant noodle snack and how expensive is the preparation in this endeavor? The production is actually quite simple and the result can definitely be seen! I have made so much truffle-ramen powder with a few ingredients that I can probably eat a whole year of it and the great thing about it is, it comes almost completely without additives and just tastes phenomenal!
Finally, I like to pimp the classic pasta snack with a few extra ingredients such as Siracha sauce or vegetables. So why stop using our homemade pasta snack? The heart of a good instant truffle ramen is only really beaten when parmesan, extra truffles and in my case an egg yolk are allowed to join – more umami, more truffle flavor and more creamy consistency.
I'll just show you how I made my ramen and can only advise everyone to imitate it. It's worth it and the taste is just sensational!
Instant truffle ramen. Ingredients:
| | | |
| --- | --- | --- |
| | For 2 people: | |
| | For approx. 500g powder: | |
| | 200g | Mushrooms white |
| | 3 clove | Garlic |
| | 1 piece | Carrot |
| | The white from a pole | Leek |
| | 1/8 shares | Celery |
| | 1 tsp chopped ginger | Ginger |
| | 1/2 tuber | Truffles |
| | 1 tbls. | Misopaste |
| | 400g | Full cream Milk Powder (Nido) * |
| | 2 tsp. | Salt |
| | | |
| | In addition: | |
| | 2 blocks | Instant noodles or fresh noodles |
| | (400 ml) | (vegetable oil for baking the noodles) |
| | 2 tsp. | To finish: Truffle oil |
| | 1/2 | Truffle bulb |
| | 2 pieces | Egg yolks |
| | 50g | Parmesan |
Instant truffle ramen. Preparation:
1. For the powder, peel the carrot, celery and garlic. Then cut the carrot, celery, garlic, mushrooms, porree and truffleinto very thin slices. Line a sheet of baking paper and spread the cut ingredients with the ginger and misopaste.
2. Put the ingredients in the oven at 50° circulating air for about 8 hours and let them dry when the door is leaned. The door must remain wide open so that the moisture can be pulled off. The ingredients must not be roasted. Pay attention to the temperature!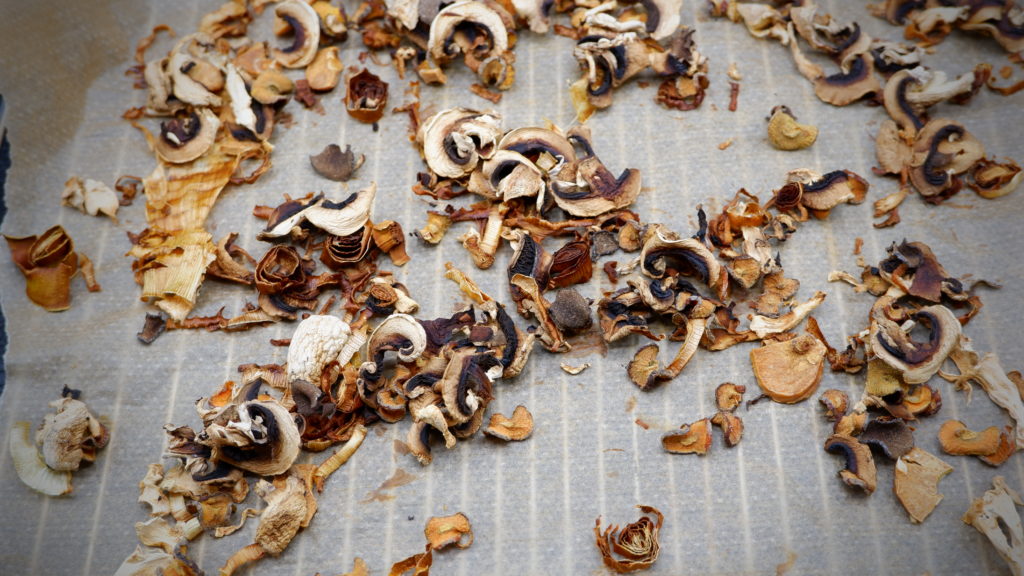 3. If you want to make your own pasta, boil the noodles in water. Then heat a pot of oil to approx. 120°. Put the noodles in a baking ring and bake slowly until firm.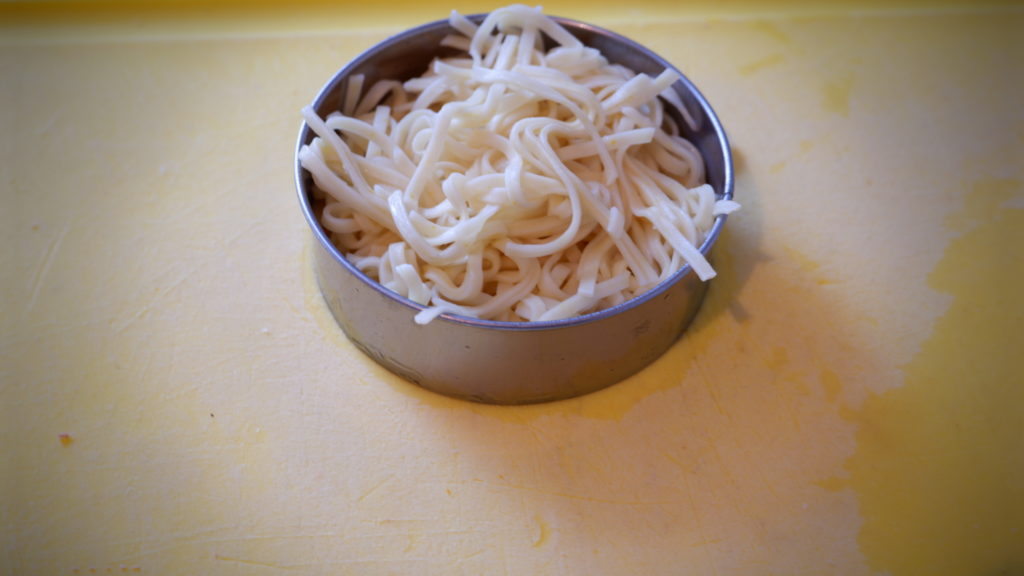 4. When the ingredients for the powder are dry, finely grind them in a food processor. Mix with the milk powder and salt and crush again.
5. Afterwards, you can fill the other ingredients in small bags. The powder can be stored in a sealed glass for several weeks. Truffle oil and dried parmesan can also be packed well in bags.
6. To prepare, put the dried noodles in a bowl. Add about 2 tbsp of the powder over it. Add 1 tsp truffle oil. Then place an egg yolk on top and pour in about 200-250 ml of boiling water. Mix the ingredients well and let the noodles pull briefly. Garnish and serve with parmesan and fresh truffle slices.
Dhe marked with asterisks (*) are so-called provision links. If you click on such a link and purchase via this link, I get a commission from your purchase. For you, the price doesn't change.
This post is also available in: German
You might also like