Summer rolls with asparagus and lemongrass hollandaise. A very clever and tasty idea to make salad, vegetables or even shrimp and co. appear in another costume are summer rolls. The name keeps what it promises, the "superfood" variations wrapped in rice paper are not only a very light and healthy dish, but convinces me above all the aspect that you can simply "snack" the rolls with your hand.
Especially now in spring, the markets offer such a wide range of fresh ingredients that it is hard to decide which interior the Vietnamese salad bombs should get this time.
The asparagus season is progressing and I always find it fascinating in which different colours and sizes it appears in the displays of the local markets. Green asparagus, purple asparagus, white asparagus, Thai asparagus, wild asparagus and many more sprout from the earth and fill the heart of the asparagus enthusiast with joy and ideas.
Since I count myself as the said, my head has been rattled for days at full speed to create something new, which convinces me of both the taste and the idea itself. To interpret an asparagus salad a little differently and to present it in a different way crept into my thoughts as a flash of spirit and was found to be good after consensual coordination between head and stomach.
If you then conjure up a double-fresh dressing in the form of a slimmed-down Hollandaise, you get closer to the goal step by step.
In fact, a few years ago, I first came across the Vietnamese appetizer variation at a local street food market.
The stalls were well filled in summer temperatures and one could expect long standing times. In all the hustle and bustle I noticed a stand, a little away from the action. A small woman stood in front of a rickety camping table and cut vegetables into fine strips with great care. I asked her what she was getting because there were no signs or indications of a particular dish.
She presented me with a dried rice oblate and I nodded to her to place my order. I was very impressed by the manufacturing process, especially as she rolled each roll individually by hand and took the necessary time to pay attention to quality and care. I also got a small bowl with a very tasty and refreshing dip sauce.
The finely crushed aromas of lemongrass, ginger and lime shot right in the nose and it was between the dense squeamish carpet that spread over the street food market, through smokers and industrial fryers, a welcome change for my over-overwhelmed olfactory organ.
In terms of taste, this unexplored new territory was something of a good thing that I immediately ordered a second portion. In fact, the summer rolls could now attract some attention and a long queue formed. Hectic was a foreign word for the woman behind her camping table and she treated each role with the same care and humility as the previous one.
Ingredients for summer rolls with asparagus and lemongrass:
| | |
| --- | --- |
| For the summer rolls | Ingredients for 4 people |
| 12 leaves | Rice paper* |
| 12 rods thin | Asparagus |
| 3 pieces | leek |
| | fresh salad of your choice |
| 100ml | Beetroot Juice |
| 100ml | beetroot juice |
| | |
| For the eggs | |
| 4 eggs | |
| approx. 400ml | Beetroot Juice |
| 4 tbsp. | Vinegar |
| | |
| For the lemongrass Hollandaise | |
| 1 rod | Lemongrass |
| 1 thumb-sized piece | Inwer |
| 1 piece | Shallot |
| 4 piece | Lime leaves* |
| 4 tbsp. | light vinegar |
| 2 pieces | Lime |
| 1 piece | Orange |
| 1 tsp. | Mustard |
| 1 tsp. | Sugar |
| 1 tsp. | Salt |
| 3 pieces Egg | Egg yolks |
| 200ml | Rapeseed oil |
| | |
| Decoration flowers or cress | |
Here's how to do it:
Blanch the asparagus in salted water and quench it in cold water. Remove 100ml from the asparagus water.
Mix beetroot and blue cabbage juice with about 100ml of water and place in a shallow, high plate.
Wash the salad thoroughly and set aside.
For the colorful eggs that cook eggs hard, quench, peel and put in the mixture of beetroot red juice and vinegar, for at least 20 minutes.
Meanwhile, make the fund for the Hollandaise. Finely chop the lemongrass, ginger and shallot and heat together with 100ml asparagus stock, the vinegar, the juice of an orange, the lime leaves, lime abrasion, sugar and salt in a saucepan.
Reduce the stock to approx. 100-150ml, finely puree and pass through a sieve.
For the summer rolls, take a sheet of rice paper and place in the coloured water for about 20 seconds. Then spread on a board and fill with asparagus and salad. Make sure that left and right side is left to hit and that you don't take too much inlay. Then gently turn in the rollers.
For the Hollandaise, egg yolk, mustard and lemongrass stock, beat over a water bath. Gradually add the rapeseed oil to create a hollandaise. Finally, season with lime juice, pepper and salt.
Take the eggs from the marinade and cut in quarter.
Arrange the summer rolls on a plate. You can also halve them and put them down. Place the quartered eggs in between and spread the Hollandaise around them. Garnish with flowers and herbs.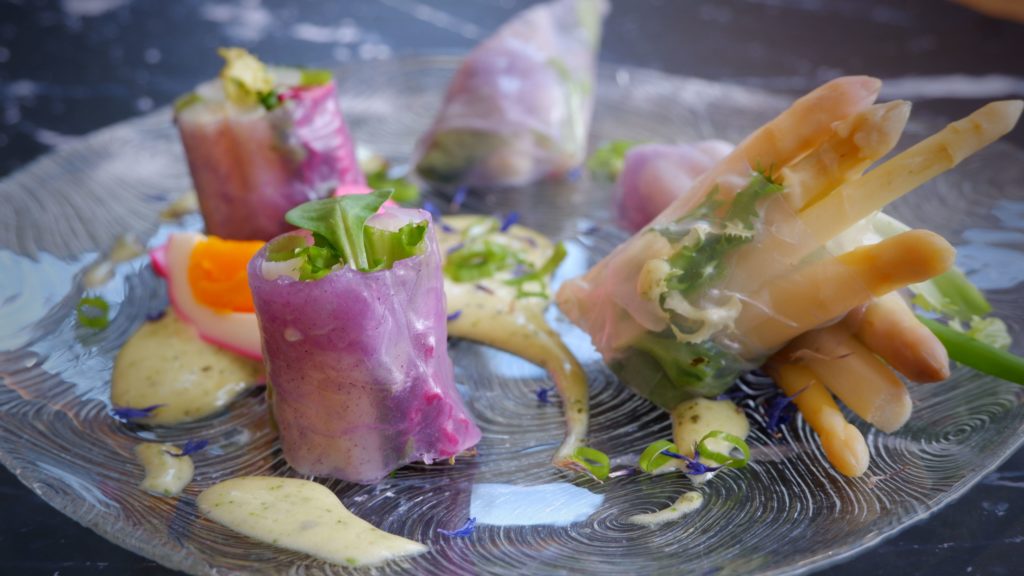 Dhe marked with asterisks (*) are so-called provision links. If you click on such a link and purchase via this link, I get a commission from your purchase. For you, the price doesn't change.
This post is also available in: German
You might also like