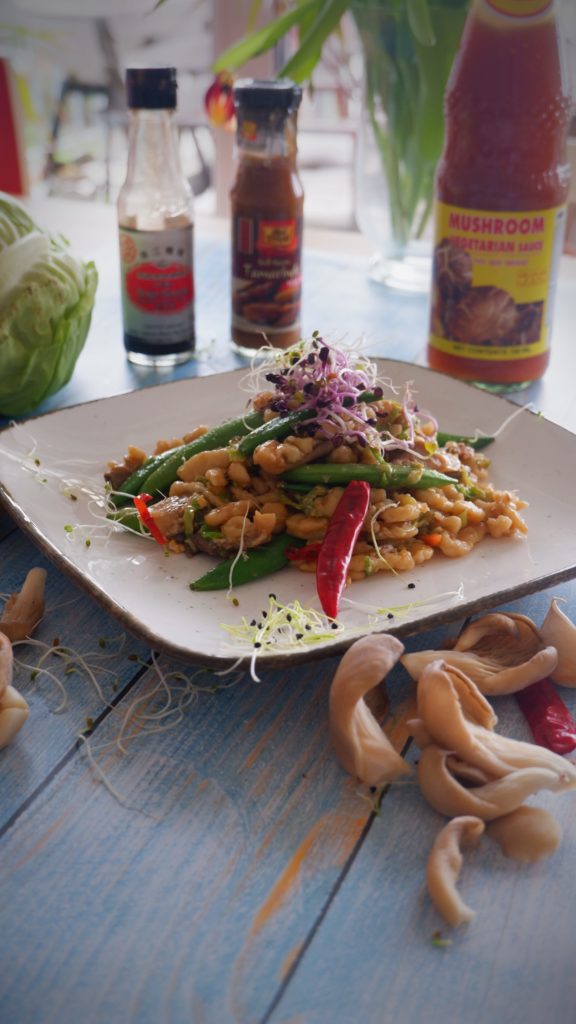 Pad Thai with Spitz and Spätz
It was almost two weeks ago when I strolled down the gangway towards Boing 777 with my backpack, full of spices. On the one hand, one is looking forward to the homeland, on the other hand there were so many places to which I would love to return again. Only in the last few days did various scenarios, situations and pictures appear again.
One begins to philosophize about it, to change the point of view and to look at the journey with different eyes. If I have previously learned about Asian cuisine with a trained semi-knowledge of books, documentaries and local restaurants, I can now draw from a pot, that is not so taught and basic seam. to mention passed on expertise as my own. Yes, I have successfully completed my mission as a foodhunter!
Moreover, apart from the fact that the people, cultures and different countries have exceeded my expectations by a long way, the secret of the realization lies that the individual event itself, puts its headline over each chapter and puts it in the library of the thoughts stowed away. The Asian continent has aroused my interest more than ever, and I often catch myself planning the next big trip to the Far East.
It all started with Thailand…..
…… with Sri Lanka, the cuisine that has delighted me the most. Even if Ko Chang was only a gap filler, I must confess that during my first stop, in just seven days, I was able to fill three-quarters of my first notebook with culinary expertise.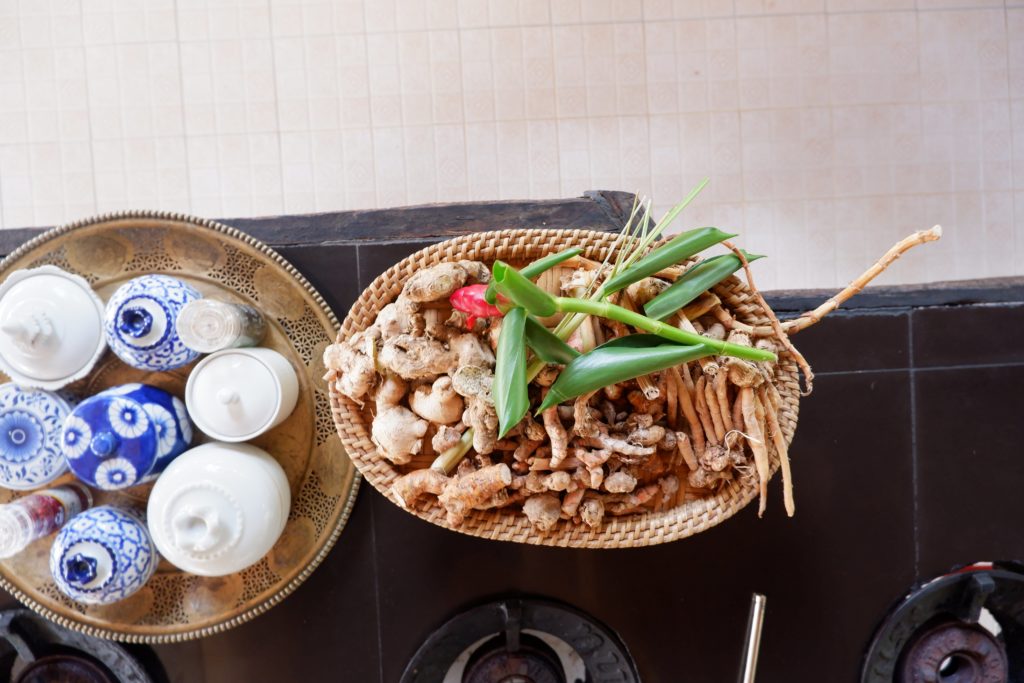 "So, let's take a look at the seven different ginger varieties and see what you can cook from it." If your chin is falling to the ground because you notice that you have only sniffed on the surface so far, then you should leave it there for the time being, because there are coriander, cardamom and co. also in twelve versions. Fascinating!!
I don't think there's a dish in as many different ways as Pad Thai. Vegetarian, with shrimps, without shrimps, with tofu, with chicken, with glass noodles or egg noodles. Every time I tried it, it tasted different. And every time I tried it, it was good to applaud! Of course, the core approach is mostly garlic, ginger, fish sauce and tamarind.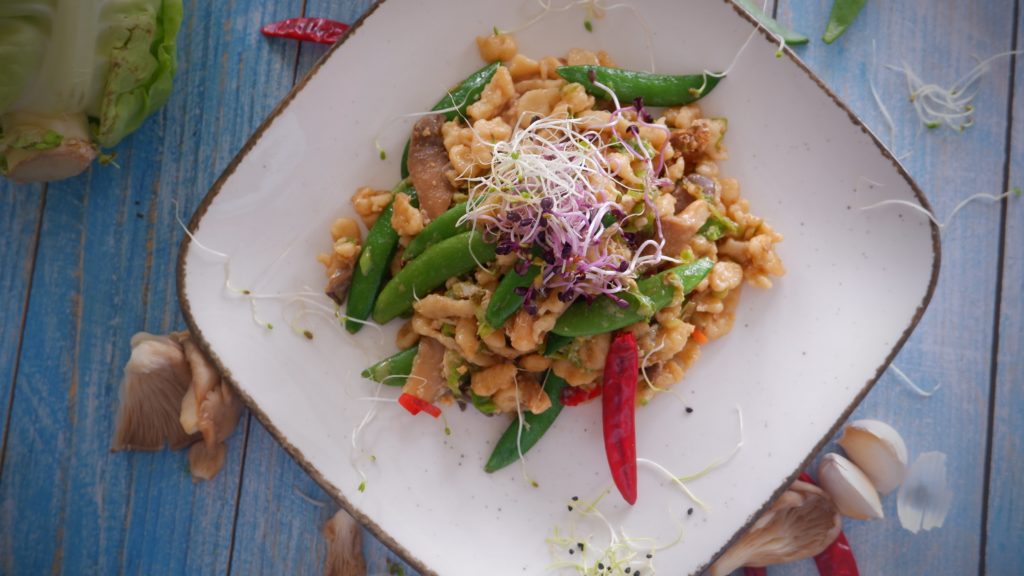 Nevertheless, swapping the pasta or adding different vegetables can significantly change the taste. In fact, one day I caught a vegetarian version, which I liked very much. Since I like to try a lot and since you can count Spätzle or Knöpfli as the local noodle, it is absolutely no break in my style to use it for the Thai pasta dish number one. And since on my taste scalar the kale simply gets more points than the Chinese cabbage, the dish was decided.
Ingredients for the Padthai
| | |
| --- | --- |
| Ingredients for 4 people | |
| Spätzle dough | (or finished Spätzle) |
| 250g | Flour |
| 3 pieces Egg | Eggs |
| 50ml | Water (bubble) |
| 5g | Salt |
| | |
| Vegetables | |
| 1/2 | China cabbage |
| 150g | Pea pods |
| 150g | Japanese broccoli (or broccoli) |
| 1 piece | Red onion |
| 1 piece | Red chilli without seeds |
| 3 clove | Garlic |
| 1 piece | Carrot |
| 1 thumb-sized piece | Ginger |
| 250g | Oyster mushrooms |
| 2 pieces | Eggs |
| | |
| Sauce | |
| 4 tbsp. | Mushroom sauce* |
| 4 tbsp. | Soya sauce |
| 2 tsp. | Sugar |
| 2 tbsp | Tamarind sauce* |
| 50ml | Vegetable broth |
| | |
| Oil | for frying |
This is how it is done…
For the spätzleteig, mix eggs, flour and salt in a bowl. Gradually add the sparkling water. Knead/beat the dough until bubbles form. Of course, you can also buy Spätzle. (=
Bring a pot of water and a little salt to the boil. To make the Spätzle/Knöpfli you can take a Spätzlebrett*, a press*or Spätzleblech*. I took the latter. The link can be found here.
To do this, pour the dough into the opening and rub at an even pace over the slightly simmering water. important! It must not boil too much, otherwise the dough will disintegrate.
As soon as the Spätzle swims up, put them in a bowl of cold water.
Cut the vegetables (if necessary) into mouth-friendly pieces. Finely chop the garlic, chilli and ginger. Heat a pan or wok with a little oil. Lightly toast the chopped garlic, chilli and ginger in the pan. Add the mushrooms, carrot, kale, Japanese broccoli and onion. Fry it all together briefly. Season lightly with the sugar, pepper and salt.
Whisk eggs and add.
Now you wipe everything with the vegetable broth and add the different sauces, soy, mushroom and tamarind and cook everything once.
Finally, add the noodles and pea pods to the wok.
Heat once vigorously and serve
The references marked with asterisks (*) are so-called commission links. If you click on such a link and purchase via this link, I get a commission from your purchase. For you, the price doesn't change.
This post is also available in: German
You might also like