Koh Tao
With a final whistle from both nostrils I pedal again with all my strength. Ten meters, five meters, one meter. Managed. I climb or fall from the absolutely desolate wire donkey, which they have sold to me far too overpriced as a mountain bike and throw the two-wheeled vehicle into the bushes.
This was by far the greatest sporting achievement I have achieved this year." If you want to be sporty, you should explore the island by bike." Have you written. The author of this article belongs in a boot camp, because it is simply impossible to explore the island by bike, if you have not just taken part in the Tour de France. So I wasn't surprised why there were few opportunities to rent such a vehicle.
After a short breath, I first register what a beautiful view lies in front of me. Wow… As if it were planned to create this island in exactly the same way. Koh Tao is one of the two islands I have travelled to the south of Thailand, the other is Koh Phangan. Both islands convince by incredible beauty, both the beaches and the inland seem to be painted by artist's hand, I have already saved many places of natural uniqueness, these two islands join in.
Koh Tao is relatively small. The island can be easily explored by scooter or on foot. Is it rather difficult to get a taxi here you explore the island rather by "do it yourself". It is worth it, because besides the tourist beaches, which are by no means overcrowded, there are also lonely bays and other great places that you would otherwise miss.
Beaches:
I'm not going to list all the beaches here because there are just too many and I couldn't explore them all. Nevertheless, I would like to tell you which ones I liked best.
In the south of the island it is Shark Bay and definitely Freedom Beach and in the north of Koh Tao the Mango Bay. All beaches offer crystal clear water and impress with seclusion and tranquility, framed in a picture of large rocks, green palm trees and flowering plants.
To do:
Diving, diving, diving. Whether freediving, snorkeling or diving with bottle. Around the island are with the most beautiful diving areas of Thailand. Every second store is a diving school or sells diving items. Otherwise it is hot to explore island! Let yourself be driven! Each destination has a surprise in store.
Nightlife:
With Sairee Beach and Fishbowl, almost everything is said. Sairee Beach is the longest beach on Koh Tao and offers a lot of restaurants, hotels and bars. The Fishbowl Bar is arguably the most famous of all, the restaurant turns into a place of beer pong tables and cool beats in the evening. But also the adjacent clubs, which are located directly on the beach, are not to be despised for party-goers and dance addicts. If you are travelling alone, you should do the Pub Crawl Tour. Here you can quickly get to know other people and a wet and cheerful evening is guaranteed.
Food:
Here you have to look more closely. If there was a culinary overload of charm in Bangkok, you have to force one or the other "local" on Koh Tao to spit out the best places for authentic Thai food. If you look at the Internet here, it is not uncommon for burger stalls, pasta bars and Spanish Tappas restaurants to top the rankings. I'm very happy about these restaurants, but I'm as interested as the little lizard that has nestled in my bathroom. Not at all. Billi (the lizard) can walk up the walls backwards. So more interesting.

Roasted Duck Restaurant: damn good street food. Here, as the name suggests, there is everything with duck. And that's really delicious!
Infinity Thaifood: Close to the harbour you get really good curries and authentic Thai food at low prices.
Babaloo: The Babaloo is located inland and is a little hidden. Here is an extra card for vegetarians and vegans.
Koh Phangan
Review: "Really nice bungalows, but the pizza in the beach restaurant was inedible, so we only give 2 out of 5 stars." Reaction: "May slaps rain on the author of this review. You are a disgrace to the hospitality and hotel industry and should be deleted on Google or TripAdvisor as soon as possible. If there was a rating system for guests, you wouldn't even get a bear sticker in your pathetic saddle booklet." In fact, one repeatedly encounters such unqualified assessments, which brutally distort the actual meaning. People, please. Let it !!!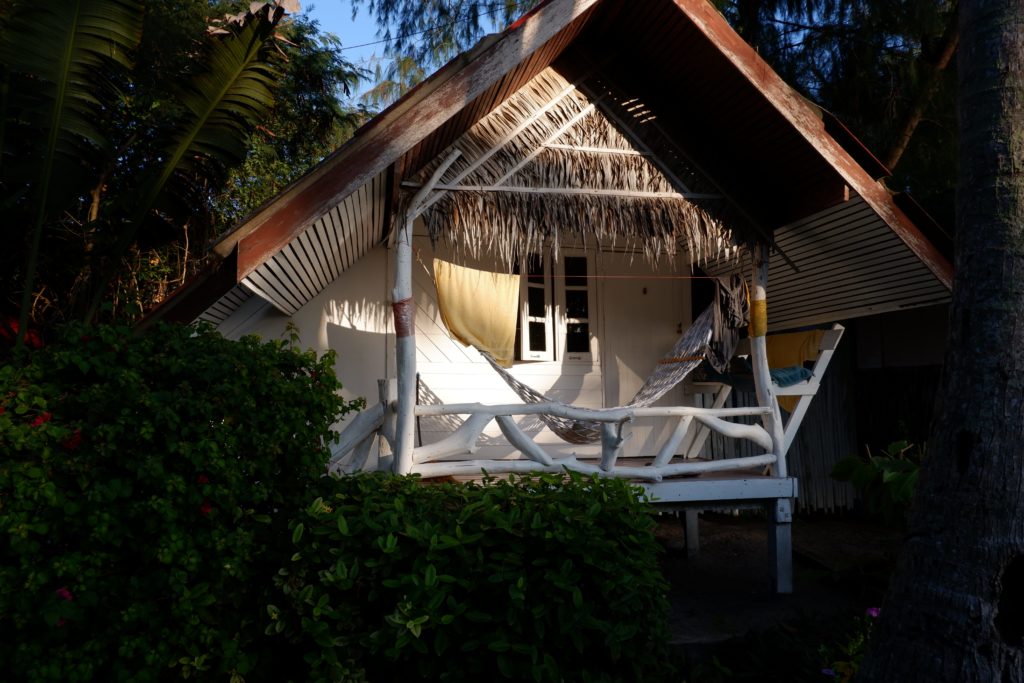 Nevertheless, I still booked a bungalow in this facility and see there… It was the most beautiful "place to stay" I had to date.

Koh Phangan is much larger than Koh Tao and only an hour away by waterway. The north and north-east are rather quieter. If you meet many yoga and meditation centers in the west, you have the full party program in the southeast.
Again, it is advisable to rent a scooter. If the taxis are more represented here again, a trip of 2 km costs just as much money as if you rent a scooter for a day. Do your favors and take the helmet. Yes, it's warm and yes your hairstyle is unfortunately underneath, but the local traffic rules are more guidelines than set in stone. If you are on the main road, you will be the first to drive. Unless you honk ten times, you are allowed to drive. You see: "safety first."
Beaches:
Haad Rin is not only known for his nightlife. This is also where the legendary fullmoon party takes place. With a bit of luck you can even surf here. Otherwise, the beach is somewhat crowded despite its beautiful location.
Similar to Koh Tao, it is also a discovery tour. In addition to many small secret beaches, I can definitely suggest the following:
Baan Tai Beach: Kitesurf Paradise No.1. Even if you are already 200m far in the sea, the water is still waist-deep.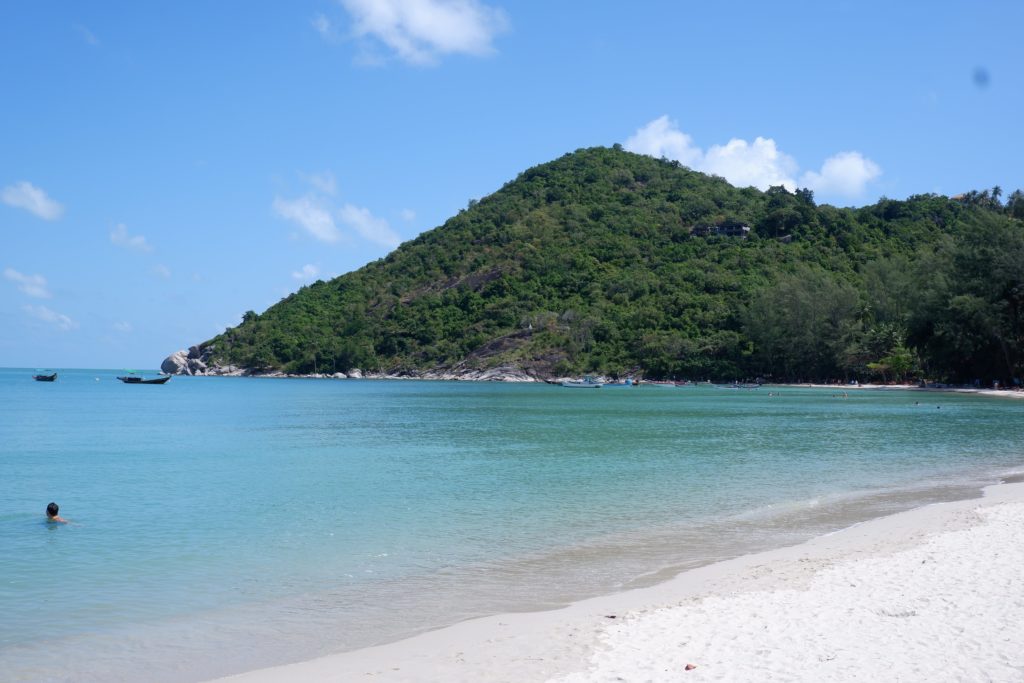 Thong Nai Pan Yai Beach: I drove from the south to the north-east to Thong Nai Pan Yai Beach. Even the scooter ride was an absolute experience and was only surpassed by this beautiful, quiet beach.
Secret Beach: Although the location of the only 150m lngen beach is no longer an insider tip, nevertheless this little spot has a great panorama to offer.
To do:
Since the island is not even to be explored by foot, you are also best served here with a scooter. It is often worthwhile to drive through the inland, as there are many beautiful waterfalls and densely overgrown serpentines. From visiting the local street food market to diving with whale sharks, you will never get bored on Koh Phangan. The offer list is really long. Try to book something with your hotel/hostel, as you get the best prices here.
Date:
Since the fullmoon party is now full of celebrity, it is not so far away that the halfmoon party, which takes place in the forest, is much more important among the "locals" and connoisseurs of the scene. In general, Koh Phangan has become an ibiza-like island. Every day there is a fine party with top DJs at a certain place on the island. If you want to follow the path of backpackers, you should look for accommodation in Haad Rin. Here the party thirst is definitely quenched.

Amsterdam Bar: This bar is famous for its breathtaking sunsets in a very cozy ambience's. Yes, the name does not come from anywhere.
Food:
It's actually getting a little easier here. Phantip Streetfood Market offers an extensive range of Thai street food. Even if most of it is very similar at some point, you will discover something new here or there. Very inspiring was this stand, in which pickled fruits and vegetables and sweets were served in a sweet coconut cream – almost as a cold bowl. If the gummy bear cold bowl was not sooo the hit, the pumpkin, with the pumpkin pickled in chilli and spices, was the absolute madness.
Pum Pui Restaurant: The food was really good. Even though many dishes are similar, you quickly realize that you still make a lot of effort to create something delicious. If time doesn't matter when cooking, because capacity is minimal anyway, then more calm and care flows into a dish. You taste that. Try the Massaman Curry. It was divine!!
Harbor House Restaurant: In terms of sharpness, little consideration is given here. If the restaurant is very popular with the locals, rarely a touri gets lost here. The chef has an impressive vita.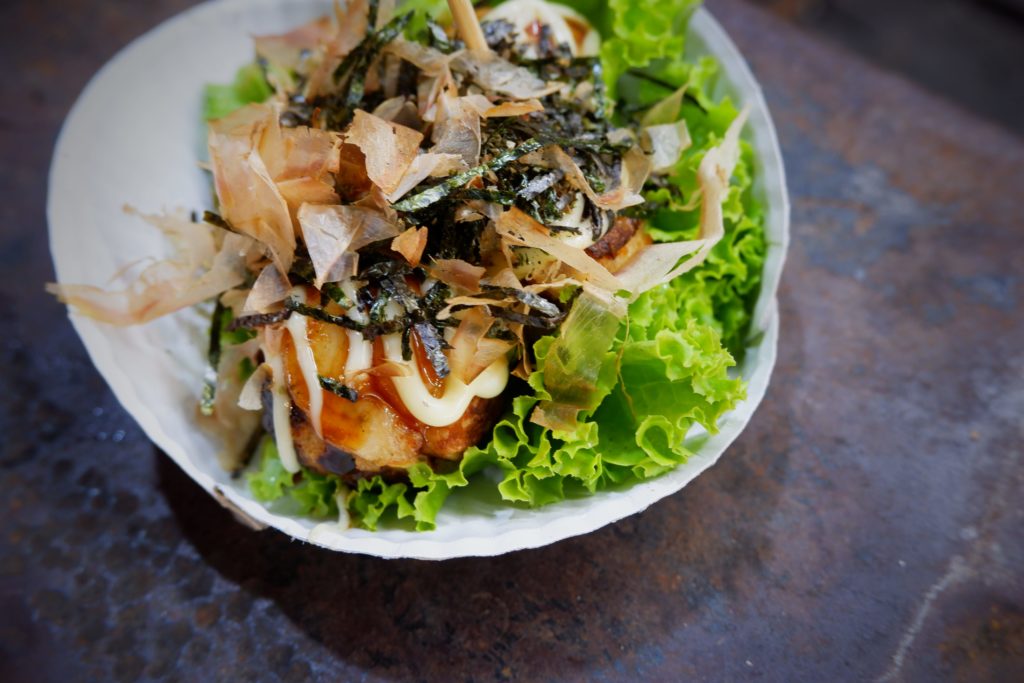 Conclusion:
Both islands convince with incredibly beautiful beaches and breathtaking flora and fauna. White sandy beaches and crystal clear waters are no illusion here. You can follow the path of the tourist and experience the different places or you go alone on the tour and can revivelonely beaches or waterfalls. If you're looking for party and nightlife, you'll love the islands, but it's not difficult to avoid it. From a food point of view, the air here gets a little thinner. Maybe it's also because I'm now very familiar with the local street food and that Bangkok has set the bar quite high. Delicious curries and Thai BBQ s are still ubiquitous here, but Here I couldn't discover the candy of the cuisine for me.
This post is also available in: German
You might also like