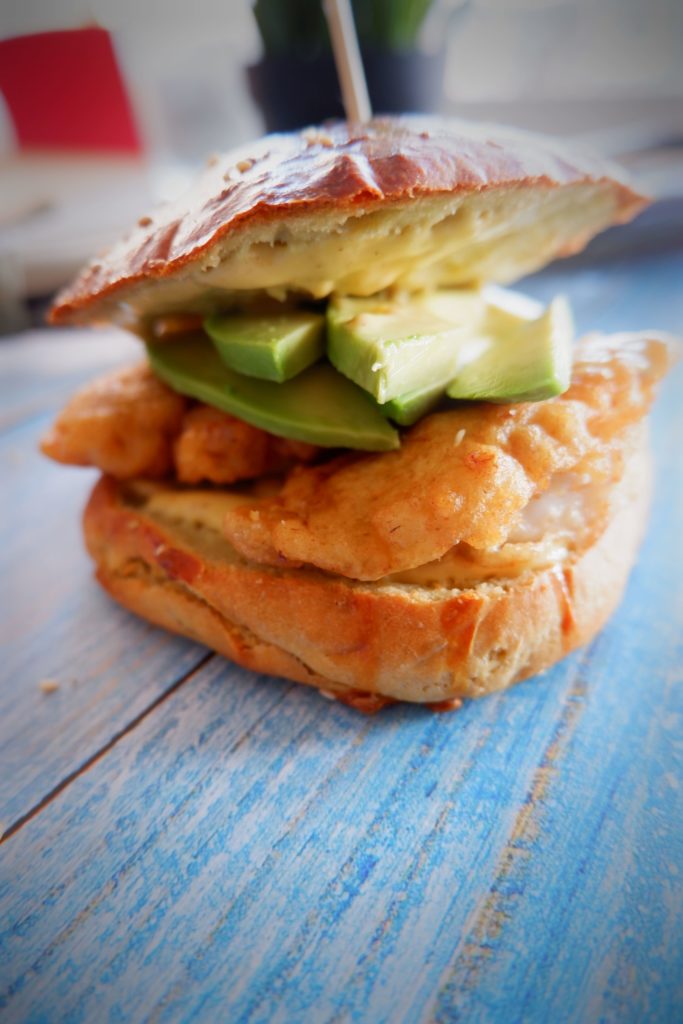 Wasabi Shrimp Burger in avocadobun with Mango…
Burgers, burgers and burgers again. I have never sworn to talk about this issue, because I believe that this issue is absolutely exploited. Just as quickly as the burger shops have shot out of the ground, most have already closed again. Nevertheless, some have managed to keep up the trend, quite rightly.
If fast food were a state, then the national flag would certainly be a burger, because nothing else represents the scene as strongly as this masterful bun.

The same is now the case with the burger, as it is with many other things. Less is simply more if the quality is right. Three important factors usually play the main role.

First, cow good, all good. If the proud animal has seen the sun and maybe even experienced some love, then you taste it! Or do you really want to stock your great, five-hundred-euro supergrill with discount edible meat? Laughable.

Secondly, as one of the countries with a very high quality baking history, one can expect a bun/bun that is full of fluffiness.

Third, a good sauce hasn't hurt any food, and especially with the burger, where we experience a multilevel taste experience, it should help to connect the individual components. In this case, it has a taste-transcendent effect.

Yes, yes. Other ingredients can also be important, but I see them in a minor role.
Nevertheless, a burger can be interpreted indefinitely and that is a good thing. For me, this time it was about using the avocado in the bun dough and giving the whole number a little sharpness. That is my result.
Wasabi shrimp burger in avocado bun with mango. Recipe:
| | |
| --- | --- |
| Avocado brioche: | For 4 burgers: 1 avocado |
| 100 ml | Milk |
| 1 piece | Avocado |
| 50 g | Sugar |
| 1/2 packet | Dry yeast |
| 40 g | Butter |
| 350 g Flour | 100g Flour |
| 1 Egg | 1 Egg |
| Pinch Salt | Salt |
| | |
| Shrimp Tempura: | |
| 1 piece | 1 Egg |
| 1/2 tsp. Salt | Salt |
| 100 g | 100g Flour |
| 100 g | Cornstarch |
| 1 packet | Baking powder |
| 120 ml | cold water |
| 1 tsp. | 1 tsp. Wasabipaste |
| 2 tbsp. | Panko flour |
| 12 pieces | Shrimp |
| | |
| Mango cream: | |
| 3 pieces | 2 Egg yolks |
| 150 ml | Rapeseed oil |
| 80 ml | Mango puree |
| 1 tsp. | 1 tsp. Mustard |
| Juice of one | Lime |
| 1 tsp. | Curry powder |
| | Salt |
| | |
| To the receipt | |
| 1 piece | Avocado |
| | Lime |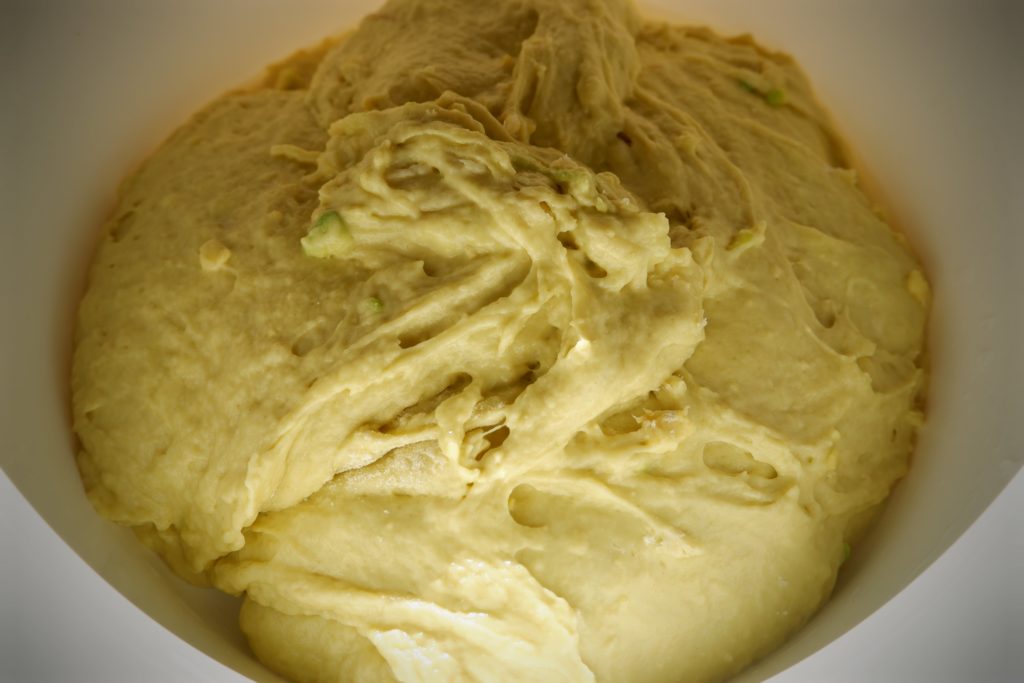 1. Slowly heat the milk, butter, sugar and salt in a saucepan. Mix in the warm liquid the yeast. Mix in a saucer, a soft avocado, flour and an egg. Slowly add the liquid to the mixture, stirring constantly, and knead everything.
2. Leave the avocado brioche mixture in a warm place for at least an hour.
3. Preheat the oven to 160 degrees and turn off medium-sized buns after about an hour. Place them on a baking sheet (laid out with baking paper) and sprinkle with an egg yolk-cream mixture. Then sprinkle with a little sesame and put in the oven for about 35 min.
4. For the tempura dough, mix flour, egg, starch, baking powder, salt, water, wasabi and panko flour and stir to a smooth mixture.
5. For the sauce, simply mix the egg yolk with the mustard and pull it up with the vegetable oil to a mayonnaise. Add the mango puree and season with curry, salt and lime juice.
6. Heat a pot of vegetable oil to bake the prawns. For this purpose, rapeseed oil is best used. Turn the prawns into flour first , (then the tempura dough sticks better) then cover with the tempura dough and bake in the hot fat golden brown.
7. When the buns are ready, allow to cool briefly and then slice. Add some of the mango cream and place the tempura prawns. I cut half an avocado, seasoned it with lime juice and salt and put it in between. You can also take salad and other vegetables. Be creative! Sprinkle the top half with the mango cream again and cover.
Enjoy
This post is also available in: German
You might also like