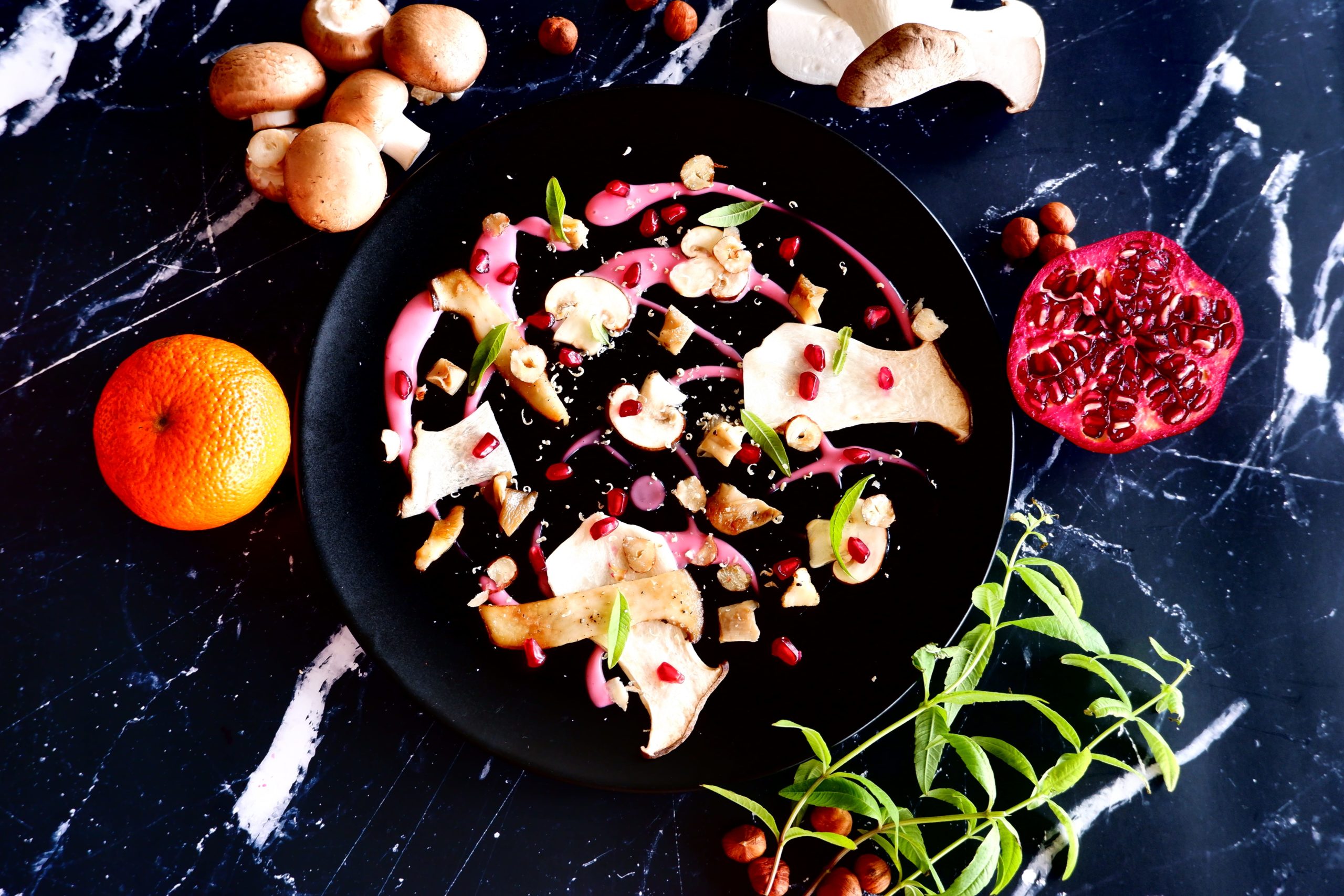 Super tasty ceviche of mushrooms with red cabbage gazpacho..
The phone rings. "Have collected porcini mushrooms, maybe you want to have some"? I am shocked to hear where they are from. "Well here from the forest" it sounds from the other side. "As if steep mushrooms were growing here" I think to myself and less than five seconds later I get the proof photo. Blatant. I never thought that would happen. Not at all, because the local vegetable supplier assured me that this year it will be very difficult with the local mushroom harvest.

Caution is required here, every edible mushroom has a poisonous relative. So if you want to go out to collect mushrooms, you should inquire carefully or ask an expert for advice

I gratefully rejected my colleague's offer – that's kind of too risky for me. Nevertheless, the mushroom fever has gripped me and a few days later I stand in the middle of the local weekly market to choose the most beautiful specimens. I liked the words of a friend who once said "I love raw mushrooms". "What a mess" I think to myself, but somehow she is probably not alone with her opinion, because a day before I read a report about the most delicious mushroom salads in a trade newspaper. Hmm. I goggle off and immediately noticed: Not all mushrooms are suitable for raw consumption! But with the mushroom and herb oyster mushroom you can probably make an exception.

Nevertheless, I do not want to leave the porcini mushroom out. He is something like the king among the mushrooms. I take a mixed bag with me, sit on a bench and watch the situation at the other market stalls. Sometimes I come up with the best ideas when I just look at people's buying habits. I see fish, red cabbage, nuts, a Spanish se'orita talking about paella. Then it sparks. There are other cooking methods besides heating. Pickling, curing and just the fermentation are very popular in the gastronomy nowadays. The think tank rattles at full speed and leads me to the following result.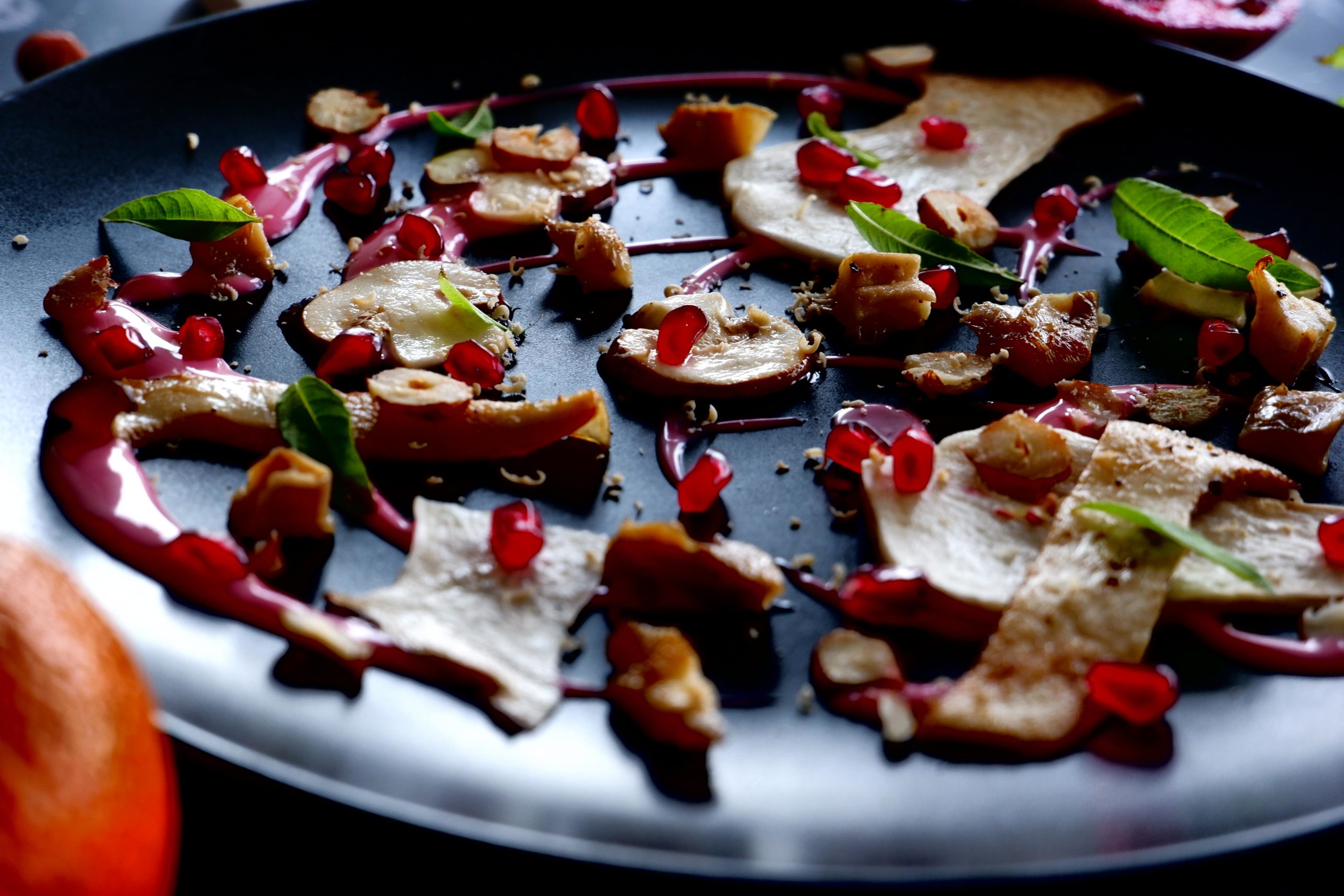 Super tasty ceviche of mushrooms with red cabbage gazpacho. Recipe:
| | |
| --- | --- |
| Mushroom ceviche | For 2 people |
| 1 piece | 1 piece of Oyster mushroom |
| 2 pieces | 2 piece Chamignons |
| 1 piece | Lemon |
| 1 piece | Mandarin |
| 1 tsp. | Salt |
| 1 tsp sugar | |
| Red cabbage gazpacho: | |
| 2 pieces | Egg yolks |
| 1 tsp. | 1 tsp. Mustard |
| approx. 100 ml | Rapeseed oil |
| 50 ml | Red cabbage juice |
| | Salt |
| | Pepper |
| | Lemon |
| For garnish: | |
| 1 piece | Pomegranate |
| 5 shares | Hazelnut |
| 1 branch | Lemon verbena |
| 1 piece | white chocolate |
| Each one fried | Porcini mushroom, king oyster mushroom, mushroom |
That's how it's done.
1.Cut the mushrooms and the herb side pieces into thin slices and place on a plate. Then add a little lemon juice. I also expressed a mandarin and put her juice over it to get more sweetness. After that I sprinkled them with sugar and salt in a ratio of 1:1. Then cover the whole thing and put it in the fridge for about three hours.
2. For the red cabbage gazpacho I first made a mayonnaise, but I separated 3 eggs and mixed the egg yolk with some mustard in a bowl. Then add the oil, stirring constantly, to create an emulsion. I then seasoned it with salt, pepper and lemon juice. Then I mixed red cabbage juice (from the Reformhouse) underneath, so that I achieve a creamy and velvety consistency.
3. I separated the pomegranate seeds cleanly from the shell. I also planed hazelnuts into thin slices.
4. Cut the remaining mushrooms, including the porcini mushrooms into fine cubes and fry sharply. We want to have roasted aromas.
5. After the elapsed time, take the mushrooms out of the fridge, wash well and pat dry.
6. Take out a plate and arrange everything nicely. The variety of colours allows you to get creative. In the end, I rubbed white chocolate over it with a grater. This takes some of the acidity out of the fungus. However, pay attention to the dosage. I also garnished with lemon verbena. This gives some extra freshness. I think the kumquats or yuzu could work well here as well. What do you think?
This post is also available in: German
You might also like